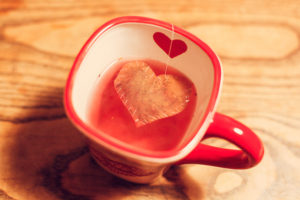 Hello there! Welcome to another Sunday full o' snippets! I'll be sharing again from Steeped in Love, so without further ado, let's hop to it!
Continuing from where we left off…. (Ethan had just spotted a tiny leaf tattoo behind Addie's ear)
Why a leaf, though? And what kind of leaf was it, exactly? Maybe she had a green thumb, or perhaps she was a pothead. Hell, he'd smoked a doobie once or twice in his life, but he wasn't about to advertise it to the world.
"More coffee, Ethan?" Gwen asked.
"Thanks," he murmured distractedly.
Gwen ducked down until she was in his direct line of sight and whispered, "How's he doing?"

"Huh?"
"Bachelor number one." She nodded over her shoulder.
Here's the blurb:
Addie Mitchell is a pie-on-the-fly entrepreneur who's finally ready to settle down in the big, empty house her late great-aunt Edna left to her. Frustrated with her lack of success in romance, Addie turns to another gift her great-aunt passed on to her—the art of reading tea leaves—to aid her in her search for the ideal mate. 
Novelist Ethan Holtz is having a hard time sinking his teeth into his next project, but he finds Addie fascinating. Mainly for her ability to make her dates disappear in fifteen minutes or less. He can't help but eavesdrop on her dates in the local coffee shop, his writing haven, and soon finds himself taking pointers on what not to do from her failed suitors.
Though her methods seem nothing short of mad, he falls fast and hard for the pixie-haired pie-pusher. She thinks they're all wrong for each other, but Ethan teams up with the tea leaves to prove they're so right.
Thanks so much for stopping by and be sure to visit the other Weekend Writing Warriors!
Well, my friends, I finally sold my van this past week–a 2004 Ford Freestar named Whipped Cream. Now that Bubba Gump has come into my life, I don't have room for two vehicles, so I had to let Whips go. It nearly broke my heart, though. He's been wonderful to me and helped me through three bitterly cold and snowy Ottawa winters, without snow tires, I might add. We've been on countless adventures together, and he's never once complained about the incessant singing. I'm gonna miss you, Whipper Snapper! You be good and make your new owners proud. As for the rest of you, if you haven't named your vehicle, now is the time. They have feelings too. Enjoy your week ahead! 😀