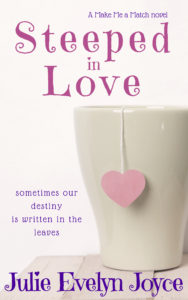 Hey, you guys! STEEPED IN LOVE IS FINALLY OUT IN THE WORLD! More on that shortly. For now, enjoy another snippet featuring Ethan and Addie! 🙂
Continuing from where we left off…
If the pie thing didn't work out, she could be a mime, except something told him she'd never be able to hold her tongue.
Addie took a seat a couple of tables over, her back to him. She pulled a tube of lipstick from her pocket and used an old bicycle side mirror from her bag to apply it. Her short hairstyle emphasized the long, slim column of her neck. Her aquamarine bike shoes slapped anxiously against the floor, like it pained her to sit still for too long. He glanced down to find his own foot tapping in sync with hers.
Gwen delivered a steaming mug to Addie's table. "Here's your tea," she said. "Good luck. Hope you find what you're looking for."
Here's the blurb:
Addie Mitchell is a pie-on-the-fly entrepreneur who's finally ready to settle down in the big, empty house her late great-aunt Edna left to her. Frustrated with her lack of success in romance, Addie turns to another gift her great-aunt passed on to her—the art of reading tea leaves—to aid her in her search for the ideal mate. 
Novelist Ethan Holtz is having a hard time sinking his teeth into his next project, but he finds Addie fascinating. Mainly for her ability to make her dates disappear in fifteen minutes or less. He can't help but eavesdrop on her dates in the local coffee shop, his writing haven, and soon finds himself taking pointers on what not to do from her failed suitors.
Though her methods seem nothing short of mad, he falls fast and hard for the pixie-haired pie-pusher. She thinks they're all wrong for each other, but Ethan teams up with the tea leaves to prove they're so right.
Thanks so much for stopping by and be sure to visit the other Weekend Writing Warriors!
Well, my book baby is available to pre-order now, my friends! It's on Amazon, Kobo, Barnes & Noble, and iTunes, and the print version will be posted for purchase by the end of next week! This is such an exciting time! I can't thank you all enough for your cheerleading and support. This community has been one of the most important and special in my writing life, and I'm grateful everyday that I've met all of you. Aww, I'm schmoopy. 😀 Have a wonderful week, and happy writing!