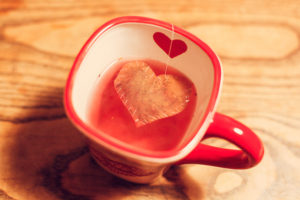 Hey-o! What's up, my readers and fellow writers? It's been a hot and steamy weekend here in Canuckland, so let's keep the steam coming with a hot cup o' Steeped in Love! 🙂
Continuing from where we left off…
The writer in him enjoyed the mystique about her, had fun contemplating her personality . . . among other things. She always appeared to be in such a hurry, selling her freshly-baked hand pies at all the hubs in this town and the neighboring ones. He'd never tried one, being that he was partial to danishes. But a girl like Addie, well, she might tempt a guy to give pie a try.
Did she make a living at it? His cooking skills ranked somewhere between novice and non-existent, and he'd never baked in his life, but people had to eat. No one needed to read, as disturbing as that seemed. Writing, he'd admit, was a pie-in-the-sky career choice, but hers was actually pie. 
Addie ordered at the counter, speaking animatedly to Gwen who gave an occasional nod while filling orders for other customers. He sat too far away to hear her chatting over the competing noise, but the kaleidoscope of emotions that played across her face kept him spellbound. 
Here's the blurb:
Addie Mitchell is a pie-on-the-fly entrepreneur who's finally ready to settle down in the big, empty house her late great-aunt Edna left to her. Frustrated with her lack of success in romance, Addie turns to another gift her great-aunt passed on to her—the art of reading tea leaves—to aid her in her search for the ideal mate. 
Novelist Ethan Holtz is having a hard time sinking his teeth into his next project, but he finds Addie fascinating. Mainly for her ability to make her dates disappear in fifteen minutes or less. He can't help but eavesdrop on her dates in the local coffee shop, his writing haven, and soon finds himself taking pointers on what not to do from her failed suitors.
Though her methods seem nothing short of mad, he falls fast and hard for the pixie-haired pie-pusher. She thinks they're all wrong for each other, but Ethan teams up with the tea leaves to prove they're so right.
Thanks so much for stopping by and be sure to visit the other Weekend Writing Warriors!
Well, my friends, I am completely finished editing Steeped now and firing it off to my crit partner for formatting. In the meantime, I have about ten million other tasks to complete, but the goal is to release my baby the first week of October. Ambitious? Hells yeah! But I just can't wait any longer to share it! Wish me luck, or at least that I don't die. 😀 Have a fabulous week!