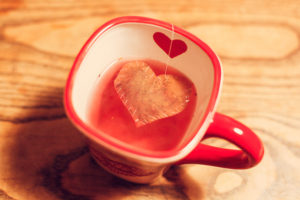 Hiya, folks! How's everybody doing? I'm excited to share another snippet from Steeped in Love with you today, so without further ado, let's see what Ethan's up to!
Continuing from where we left off…
But until recently, the writing wasn't the problem. It was the fact that the books he worked so hard on weren't selling worth a damn. A demoralizing reality, but a reality nonetheless.
He knew he was good. His psychological thrillers were deep and thought-provoking, not only according to him but to several critics. When Thrilled About Thrillers gave him a Top Pick, he was sure he'd made it. His agent had gushed on and on about the esteemed acknowledgement, yet, somehow, his critical acclaim hadn't translated to commercial success.
Lowering his gaze to the screen, the blank page glared back and the cursor taunted him.
Oh, to hell with it.
Ethan flagged down Gwen and ordered the damn danish.

Here's the blurb:
Addie Mitchell is a pie-on-the-fly entrepreneur who's finally ready to settle down in the big, empty house her late great-aunt Edna left to her. Frustrated with her lack of success in romance, Addie turns to another gift her great-aunt passed on to her—the art of reading tea leaves—to aid her in her search for the ideal mate. 
Novelist Ethan Holtz is having a hard time sinking his teeth into his next project, but he finds Addie fascinating. Mainly for her ability to make her dates disappear in fifteen minutes or less. He can't help but eavesdrop on her dates in the local coffee shop, his writing haven, and soon finds himself taking pointers on what not to do from her failed suitors.
Though her methods seem nothing short of mad, he falls fast and hard for the pixie-haired pie-pusher. She thinks they're all wrong for each other, but Ethan teams up with the tea leaves to prove they're so right.
Thanks so much for stopping by and be sure to visit the other Weekend Writing Warriors!
Well, I'm recovering today from a full day of paddling in my second dragon boat festival. We didn't win any medals this time around, but we finished strongly against a lot of tough teams. We ended up 12th overall out of 42 boats, and our race times were extremely fast! Super proud of my team–Paddle Me Harder! Hope your week ahead is all smooth sailing! 🙂