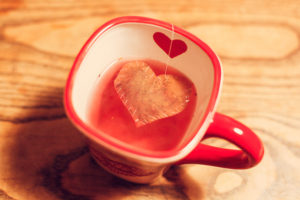 Hellooooooo! Happy Sunday, my peeps! I'm ready to share another excerpt from Steeped in Love as we count down to the big release! Ready? Let's go!
Continuing from where we left off…
She smiled as she whirled past him, her hands loaded with empty mugs and crumb-filled plates, remnants of delicious pastries that once were. Lord, he wanted a cherry danish. But not yet. Not until he cranked out the first thousand words.
Ethan had been living in Kendal for a little over a year, but even he had to admit he hadn't done much to make an impression. Unless you counted Mrs. McCallister and her three grandchildren. They'd often cross paths at the public swimming pool.
Typical introvert, according to multiple Facebook quizzes, he liked his books and television shows and felt comfortable only in a few particular spots, like the Cup-A-Cabana coffee shop.
He'd been writing there for a few months now, thinking the change of scenery and the colorful mix of people he observed would help his writer's block. Sure beat staring at the bland walls of the apartment he rented.
Here's the blurb:
Addie Mitchell is a pie-on-the-fly entrepreneur who's finally ready to settle down in the big, empty house her late great-aunt Edna left to her. Frustrated with her lack of success in romance, Addie turns to another gift her great-aunt passed on to her—the art of reading tea leaves—to aid her in her search for the ideal mate. 
Novelist Ethan Holtz is having a hard time sinking his teeth into his next project, but he finds Addie fascinating. Mainly for her ability to make her dates disappear in fifteen minutes or less. He can't help but eavesdrop on her dates in the local coffee shop, his writing haven, and soon finds himself taking pointers on what not to do from her failed suitors.
Though her methods seem nothing short of mad, he falls fast and hard for the pixie-haired pie-pusher. She thinks they're all wrong for each other, but Ethan teams up with the tea leaves to prove they're so right.
Thanks so much for stopping by and be sure to visit the other Weekend Writing Warriors!
Hope you've all had an enjoyable weekend thus far! I spent Saturday afternoon at a pool party/barbecue social with my new dragon boat team. We've been practicing for the last couple weeks, and next weekend we'll be racing in the Rideau Canoe Club Dragon Boat Festival! We're paddling 200 meter, 500 meter, and 1000 meter distances! Wish us luck! 🙂