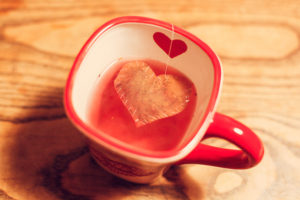 Hey there, all you writery people! I'm back from a fan-freaking-tastic weekend in NYC with two of my best pals, Maggie Wells and Kristan Higgins! You can read all about it in my previous post, pics included! But read this first…another snippet from Steeped in Love!
Continuing from where we left off….
He'd vowed to try harder. If he sat here and let her go on dating all these other guys, he'd have no one to blame but himself. It would be tacky and undignified to pin her down in the bowling alley, tempting as it was. Tacky mainly because Al hardly ever cleaned the floors. He knew where she lived, though. He could try the old 'I just happened to be in the area' routine. Casual hadn't worked for him up till now, but he doubted she'd find friendly neighborhood stalking a turn-on. 
Blowing out a frustrated breath, he rubbed the pads of his fingers against his temples. And so what if he did go to all this effort? Would it all be for naught?
Thanks so much for stopping by and be sure to visit the other Weekend Writing Warriors!
Life has been so exciting as of late, with my Gilmore Girls fan fest and NYC adventure, but the colder weather is here and suddenly I'm ready to curl up in my PJs and go hardcore into hibernation mode. Six weeks and counting till Christmas vacation! Have a wonderful week ahead, my friends! 🙂