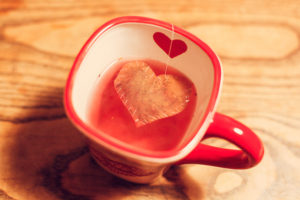 Gooooood morning, all you fabulous people! This is the 52nd Sunday snippet I've posted on my not-so-new-anymore blog, which is a whole year's worth of writing! How cool is that? Thanks to all of you for visiting each and every Sunday. Now, here's a special treat for your loyalty…a hot and fresh snippet from Steeped in Love! 🙂
Continuing from where we left off….
Say something, you idiot. Quickly, before she goes. "You're welcome." Wow, that was Oscar-worthy.
Addie waited a beat, but realizing he was either short on words or temper, she turned on her heel and headed for the door. He watched her as she reached for the handle and exited the shop.
What did she see when she looked at him? An intellect she could trade barbs with? A lonely, pathetic, and soon-to-be-broke poser who was anything but publishable? He'd been published multiple times, damn it, and he didn't need her or anyone else to validate his skill in the craft.
Here's the blurb:
Addie Mitchell is a pie-on-the-fly entrepreneur who's finally ready to settle down in the big, empty house her late great-aunt Edna left to her. Frustrated with her lack of success in romance, Addie turns to another gift her great-aunt passed on to her—the art of reading tea leaves—to aid her in her search for the ideal mate. 
Novelist Ethan Holtz is having a hard time sinking his teeth into his next project, but he finds Addie fascinating. Mainly for her ability to make her dates disappear in fifteen minutes or less. He can't help but eavesdrop on her dates in the local coffee shop, his writing haven, and soon finds himself taking pointers on what not to do from her failed suitors.
Though her methods seem nothing short of mad, he falls fast and hard for the pixie-haired pie-pusher. She thinks they're all wrong for each other, but Ethan teams up with the tea leaves to prove they're so right.
Thanks so much for stopping by and be sure to visit the other Weekend Writing Warriors!
I missed posting last weekend on account of celebrating Canadian Thanksgiving with my family, but I'd be remiss if I didn't say how thankful I am for all of you and the endless support you provide throughout the year. You can't imagine how helpful and encouraging your kind words and comments are to me. *Group Hugs* I'll be away next weekend on a trip to Connecticut for Gilmore Girls Fan Fest! Stay tuned for pics and endless gushing! 😉 Enjoy your week, my friends!