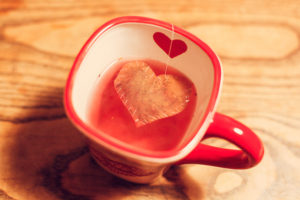 Happy October! Happy Fall! Happy Sunday! Happy happy! 😀
Hiiiiiii! I might be typing this whilst under the influence of alcohol. I attended my brother's wife's sister's wedding (does that sound as complicated as I think it does?) on Saturday, and the party is still a'rockin'! So, let's get things rockin' here, too, with another snippet from Steeped in Love…my newly COMPLETED story!
Continuing from where we left off….
"Listen, Addie—"
She jumped to her feet, her eyes flashing panic. "Shoot, sorry, it's almost four! I promised Al down at the bowling alley that I'd make a pie run before the tournament ends. Those boys'll be good and hungry."
"I'm sure," Ethan muttered.
"Hey, the danish is on me." She dropped some bills to the table, then met his eyes again. "And, thank you…for listening and for the snark. I needed that."
Here's the blurb:
Addie Mitchell is a pie-on-the-fly entrepreneur who's finally ready to settle down in the big, empty house her late great-aunt Edna left to her. Frustrated with her lack of success in romance, Addie turns to another gift her great-aunt passed on to her—the art of reading tea leaves—to aid her in her search for the ideal mate. 
Novelist Ethan Holtz is having a hard time sinking his teeth into his next project, but he finds Addie fascinating. Mainly for her ability to make her dates disappear in fifteen minutes or less. He can't help but eavesdrop on her dates in the local coffee shop, his writing haven, and soon finds himself taking pointers on what not to do from her failed suitors.
Though her methods seem nothing short of mad, he falls fast and hard for the pixie-haired pie-pusher. She thinks they're all wrong for each other, but Ethan teams up with the tea leaves to prove they're so right.
Thanks so much for stopping by and be sure to visit the other Weekend Writing Warriors!
So, hey, did you catch that bit about this story being COMPLETE? I finally typed those two glorious words Friday night. This baby is D-O-N-E! Now, I just need to wrap it up, tie it with a bow, and send it on to my critique partner extraordinaire. I'm so happy with the way it turned out, and I can't wait to share the finished product with all of you! Thanks so very much for your encouragement and enthusiasm each week! Hope your October ROCK-tobers! 😀