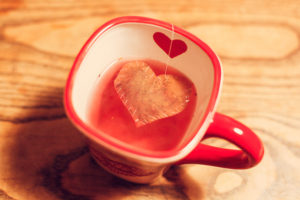 Hellooooooooooo! Does my voice sound far away? That's because, while you're reading this, I'm jumping out of an airplane. Yeah-huh! More on that shortly. In the meantime, here's more Steeped in Love!
Continuing from where we left off….
"Barker."
"What? Fine. I'll stop provoking him, but if he tries to put up even one poster on my storefront windows, that man is going to see firsthand that my bark is far worse than my bite."
"You're a kitten and you know it."
"In any case," Addie began, hoping to steer the conversation back to its original track, "I think you may be onto something with your philosophy that men with dogs are the pick of the litter."
"See? I told you!" Hannah pointed a finger at Gwen. "She always underestimates my brilliance. I think I'll write a book."
Here's the blurb:
Addie Mitchell is a pie-on-the-fly entrepreneur who's finally ready to settle down in the big, empty house her late great-aunt Edna left to her. Frustrated with her lack of success in romance, Addie turns to another gift her great-aunt passed on to her—the art of reading tea leaves—to aid her in her search for the ideal mate. 
Novelist Ethan Holtz is having a hard time sinking his teeth into his next project, but he finds Addie fascinating. Mainly for her ability to make her dates disappear in fifteen minutes or less. He can't help but eavesdrop on her dates in the local coffee shop, his writing haven, and soon finds himself taking pointers on what not to do from her failed suitors.
Though her methods seem nothing short of mad, he falls fast and hard for the pixie-haired pie-pusher. She thinks they're all wrong for each other, but Ethan teams up with the tea leaves to prove they're so right.
Thanks so much for stopping by and be sure to visit the other Weekend Writing Warriors!
So yeah…about that jumping out of a plane thing. I took a flying leap, quite literally, and decided to check off another item on my bucket list: SKYDIVING!!!!! I figured I might as well try it while I'm still young and spry and less prone to having a heart attack mid-air. Hopefully I've landed safely by now and I'll be back to tell you all about it next week! Videos AND pictures to come! Do something adventurous this week my friends, whether it's writing-related or not. Be bold, be brave, and face your fears! You've only got one life so live it to its fullest. 🙂