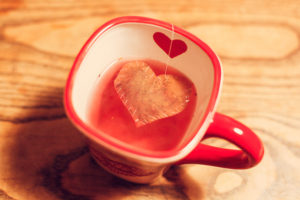 Hiya, friends! Hope you're doing well! I'm sharing another snippet from Steeped in Love for your Sunday reading enjoyment. Drink up!
Continuing from where we left off….
"Now, now, retract those claws and paws for the cause," Addie teased.
Hannah rolled her eyes. "Could he not have come up with a better slogan? I bet his 'concerned citizens' bit only includes him and his big, fat ego."
"Easy there, tiger," Gwen said, laughing. "What's your beef with this guy? It's not such a bad cause."
"He's just…he's all judgy because, well, okay, sometimes I let Muffy, my Labradoodle, off her leash…and he kind of saw me do that the other day."
Gwen eyed her suspiciously. "He kind of saw you, or you purposely did it in front of him to set the guy off?"
"Potato, pot-ah-to."
Here's the blurb:
Addie Mitchell is a pie-on-the-fly entrepreneur who's finally ready to settle down in the big, empty house her late great-aunt Edna left to her. Frustrated with her lack of success in romance, Addie turns to another gift her great-aunt passed on to her—the art of reading tea leaves—to aid her in her search for the ideal mate. 
Novelist Ethan Holtz is having a hard time sinking his teeth into his next project, but he finds Addie fascinating. Mainly for her ability to make her dates disappear in fifteen minutes or less. He can't help but eavesdrop on her dates in the local coffee shop, his writing haven, and soon finds himself taking pointers on what not to do from her failed suitors.
Though her methods seem nothing short of mad, he falls fast and hard for the pixie-haired pie-pusher. She thinks they're all wrong for each other, but Ethan teams up with the tea leaves to prove they're so right.
Thanks so much for stopping by and be sure to visit the other Weekend Writing Warriors! 
Can you believe that June is almost here? I have exactly sixteen more days of teaching, then exams, then marking, then report cards, then SUMMER BREAK!!! It's just around the bend! I can practically taste the freedom! Wishing you all a wonderful and wordy week ahead! 🙂