Hey-hey! Happy Sunday, my friends! It's is a very special day indeed because my nephew Charlie turns six! I dedicate today's snippet from Love Unleashed to Prince Charlie, the sweet boy who made me an aunt–the greatest thrill of my entire life. 🙂
Continuing from where we left off…
"Daddy, look what I made!"
 Kent dropped down to her level. "That's the best-looking biscuit I've ever seen. You did a great job, sweetie."
"What do you think, Miss Barker?"
Hannah's chest swelled at being asked, and she bent for a closer examination. "It's almost too perfect to eat!" Beside her, Muffy stuck her nosy snout out and licked her lips. "Muffy doesn't seem to agree, though," Hannah said with a laugh.
"Can I give this to her?" the girl asked. "I'll make another one."
***End of WWW post, but carry on to finish this sequence.***
She glanced to Kent to see if he'd object and was relieved when he gave a nod of assent. "Sure, hon. Go ahead." Hannah instructed Muffy to sit before being fed. The other kids abandoned their work station for an up-close view of the proceedings. "If you toss it in the air, she'll catch it." To their delight, Muffy caught the thrown biscuit mid-air, then she flopped on her belly to savor her treat. The kids crowded around, petting her baby girl who wouldn't hurt a fly, but Kent kept a watchful eye on them.
"What's your daughter's name?" Hannah asked, in part to ease his obvious discomfort.
He met her gaze. "Diana."
Diana? She blinked. "Wow. You are really playing up this bit."
"What bit?"
"You know full well what bit," she shot back. "Diana, the Amazonian goddess. Was she sculpted from clay?" He stared back at her, expressionless. "Superman and Wonder Woman right under the same roof? This is not a coincidence, Kent Clarkson! You're a geek so just admit it."
Here's the blurb:
Hannah Barker has it all. A booming business, a fabulous group of girlfriends, and a loving and devoted housemate…with floppy ears and a wet nose. She doesn't have time for romance. Or so she says.
Kent Clarkson is a single father on a mission to keep his daughter safe. But when the blonde bombshell he's been butting heads with all summer proposes opening a dog park, Kent—who's been once bitten and more than twice shy—goes on the offensive. Soon, it's all-out war.
The whole town knows the chemistry between Hannah and Kent is off the leash, but can these two set aside their differences long enough to fall in love?
Thanks so much for stopping by and be sure to visit the other Weekend Writing Warriors!
Here's a pic of me and my Charlie taken last summer. 🙂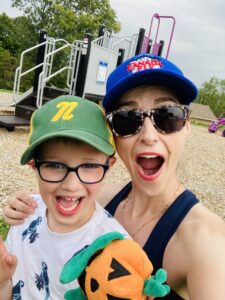 The wee Prince insists you have a slice of cake today to help him celebrate, and how could you say no to this face? 😉 Enjoy the week ahead, and I shall see you all next Sunday! xo