Heyyyyy, I'm baaaack! Happy New Year, my friends! I would have joined you last weekend, but my website decided to crash because apparently it'd partied too hard over the holidays. Oh, and did I mention that my laptop died, too? Yuh-huh! But I got myself a new pretty toy. I'll be sharing a few more snippets with you from Learning to Love, and then I'll switch over to the third book in my Make Me a Match series. Now, let's head back to the quirky town of Kendal!
We're still in Towanda's tent, and she's continuing her reading of Rebecca's palms…
"Let's look at your life line now," Towanda said. "Yours starts at the edge of your palm, between your forefinger and thumb, and extends deep to the base of your thumb." She followed the line with her middle finger, moving down and then back up again. "It's a good, long line. A strong line, thick and clear. I can feel the energy."
Rebecca looked at her life line with renewed appreciation. "So I'll live a long life?"
"You know, most people think a life line denotes the length of one's life, when, in fact, it mainly reflects a person's vitality and life energy. Your line is perfectly suited to your physical lifestyle. You've lived more than most people have in your first trimester on Mother Earth, but you're a survivor. You're able to withstand whatever hardships come your way. That's what your line tells me."
***End of WWW post, but carry on to finish this sequence.***
She opened her mouth to respond, to refute the statement in some way or brush it off as nonsense, but there was too much truth there to deny, and she'd reached a point in her life where she wanted to stand in her truth.
After a moment, Towanda spoke again. "Lastly, let's look at your head line, the line of wisdom and intellect." She pointed to the groove in her skin that traveled between her heart line and life line through the center of her palm. "This line is long, too, indicating you have a clear mind, and it's curved, which shows your gentle nature. You have a great deal of tolerance and good interpersonal skills. Ideal for a teacher."
Rebecca smiled. "The tolerance part comes in handy when working with teenagers."
"You're an old soul, Rebecca," Towanda continued. "The lines on your hands are deep, and the skin is tough. You have the palms of a person who's lived a dozen lives. The best thing for a woman with an old soul is to find a younger man."
Here's the blurb:
Rebecca Ledgerwood is a physical education teacher who's ready to invest some sweat equity into a lasting romance. William Whitney is a man who's turned his life upside down in pursuit of making a difference.
The students at Kendal High School face challenges prep school educated Will could never imagine, but his beautiful coworker Rebecca has known firsthand. Though the chemistry between them is strong, they come from vastly different backgrounds.
Rebecca is surprised to discover she and Will have more in common than she realizes. But just when she learns to trust him, Will is faced with the biggest challenge of his life. With their hearts on the line, can Will prove to Rebecca that he's learned how to love?
Thanks so much for stopping by and be sure to visit the other Weekend Writing Warriors!
I'm sure you're all just itching to see my brand new computer baby, so here's Pecan Sandy, my Microsoft Surface 3, after I blinged her up with stickers of happiness and joy. 😀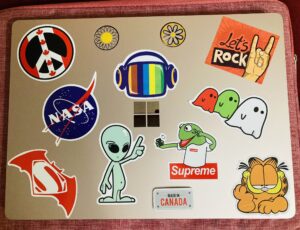 Have a wonderful week and I'll see you next Sunday!!