Howdy, folks! Hope you're all good! I just made it back to Ottawa in time for the Raptors' first NBA game since March! You have no idea how much I've been looking forward to this! And speaking of sporty people, let's check in on my Phys. Ed. teachers in Learning to Love! 🙂
Continuing from where we left off (Rebecca accidentally hit Will in the head with a kiddie-size basketball)…
"Oh, God, I'm so sorry," Rebecca said, covering her burning face with her hands. She peeked between her fingers and watched Will pick up the ball and toss it a few times in the air before he placed it on Berg's desk next to the other one. Satisfied he didn't plan on launching a counterattack, she dropped her hands to her side.
"You sure you're being honest with your tally here?" he asked her with raised eyebrows.
 She laughed. "I don't usually miss by that much. Or at all. You startled me. Guess you got yourself a set of keys?"
"Yeah. I won't have to bug you guys. Not for keys, at least."
***End of WWW post, but carry on to finish this sequence.***
Silence stretched between them. He made the short trek to his desk, dropped his bag, and then turned to face her with his hand out. "Hey, I'm Will Whitney."
She frowned. "Uh . . ." Jesus. How hard had she hit him?
"Just play along," he said.
She took his hand and shook it, still not quite understanding whatever game they were playing. "Hi, I'm Rebecca Ledgerwood."
 "It's great to meet you, Rebecca. I look forward to working with you . . . in a strictly professional way."
Catching his drift, she smiled. He wanted to start fresh. She could do that.
Here's the blurb:
Rebecca Ledgerwood is a physical education teacher who's ready to invest some sweat equity into a lasting romance. On a whim, she has her palm read before summer vacation ends, and she's told she's an old soul who'll find happiness with a younger man.
William Whitney leaves an unfulfilling career to pursue teaching and gets placed at Rebecca's school for his physical education practicum. He's desperate to make a difference, convinced that the choices he made in the past contributed to his younger sister's death. Kendal High School is nothing like the prep school he attended as a teenager, but he's determined to make the most of his time there, especially if it makes Rebecca notice him.

Though they come from vastly different backgrounds, there's an undeniable chemistry that sparks between the two. Rebecca discovers they have more in common than she realized, and Will teaches her to trust again. But when he's faced with his biggest challenge, will he take the easy way out, or prove that he's learned the true meaning of love?
Thanks so much for stopping by and be sure to visit the other Weekend Writing Warriors!
I had an absolute blast with my dad and nephew and niece this past week. I also got to see my bro, sis-in-law, and my aunt Jill, too! Four out of seven days were spent playing with these adorable kiddos.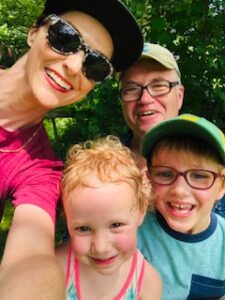 Look how cute they are! I'm a lucky, lucky auntie. I also need to sleep for the next month. 😀 Enjoy your week, my friends! See you next Sunday!