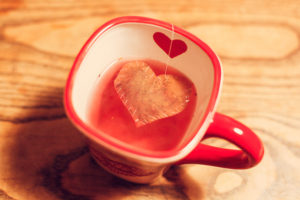 Hello, my friends! Happy day of one extra hour of sleep! Just in case you're still feeling sleepy, here's another cup o' Steeped in Love to help wake you up! 🙂
Continuing from where we left off….
"What other kinds of adventurous stuff do you like to do?" While the question sounded innocent enough, the borderline-lecherous look in his eyes indicated his direction of thinking.
Her mind raced as she tugged nervously at the clingy fabric of her tank top. "Oh, I'm a regular Bear Grylls," she lied. "Name a mountain, I've climbed it. Sandboarding? Done it. Whitewater rafting? Child's play." Fibs, fables, and fictions so ridiculous even she had to stifle a smile, but at least she'd sparked a grin from him, too.
Here's the blurb:
Addie Mitchell is a pie-on-the-fly entrepreneur who's finally ready to settle down in the big, empty house her late great-aunt Edna left to her. Frustrated with her lack of success in romance, Addie turns to another gift her great-aunt passed on to her—the art of reading tea leaves—to aid her in her search for the ideal mate. 
Novelist Ethan Holtz is having a hard time sinking his teeth into his next project, but he finds Addie fascinating. Mainly for her ability to make her dates disappear in fifteen minutes or less. He can't help but eavesdrop on her dates in the local coffee shop, his writing haven, and soon finds himself taking pointers on what not to do from her failed suitors.
Though her methods seem nothing short of mad, he falls fast and hard for the pixie-haired pie-pusher. She thinks they're all wrong for each other, but Ethan teams up with the tea leaves to prove they're so right.
Thanks so much for stopping by and be sure to visit the other Weekend Writing Warriors!
So, anyone else doing the NaNo thing? Steeped in Love is actually my project for that. It was finished, in theory, but I've decided to beef it up a bit so I can submit it to more publishers and enter it into the Golden Heart. When I first completed it, it was around the 35k mark, but now I'm over 40k and I can say, for the first time ever, that I've written something novel-length! It's such a cool feeling! 🙂 Happy writing, my friends!