Hi, everyone! Happy Mother's Day to all the mothers, almost-mothers, daughters, sisters, and kick-ass aunties out there! I salute you! Here's another snippet from Learning to Love as my gift to you! 🙂
Continuing from where we left off…
Just so long as his sexy lips didn't go flapping, they'd be okay. No matter how competitive the guy was, nor how hard she'd made him work for that kiss, they both knew there was way more than pride on the line if word got out.
Thank God they hadn't been caught by the girls. And now she had to go and pretend she wasn't pissed as hell at them for interrupting what had to be the single hottest kiss of her entire life. Well, there was no putting it off any longer. Rebecca, the woman, had to be muzzled because Rebecca, the teacher, had a job to do. With one last cleansing breath, she strode toward the girls' washroom.
She pushed open the door to find the two teens huddled in front of the mirror, a pile of toilet tissue streaked with makeup and tears at their feet. Even partially masked and made-up, she recognized the girls. Jenna Wade and Ryley Parker, both seniors, and both currently flunking her Phys. Ed. class.
Here's the blurb:
Rebecca Ledgerwood is a physical education teacher who's ready to invest some sweat equity into a lasting romance. On a whim, she has her palm read before summer vacation ends, and she's told she's an old soul who'll find happiness with a younger man.
William Whitney leaves an unfulfilling career to pursue teaching and gets placed at Rebecca's school for his physical education practicum. He's desperate to make a difference, convinced that the choices he made in the past contributed to his younger sister's death. Kendal High School is nothing like the prep school he attended as a teenager, but he's determined to make the most of his time there, especially if it makes Rebecca notice him.
Though they come from vastly different backgrounds, there's an undeniable chemistry that sparks between the two. They resist, as they must, until his practicum ends, but when he's offered a teaching position at his former prep school, will he take the easy way out, or fight for what's right in front of him?
Thanks so much for stopping by and be sure to visit the other Weekend Writing Warriors!
Well, Dad's 70th birthday was a huge success! And my cake went over like gangbusters!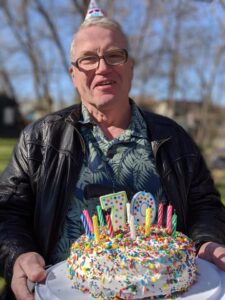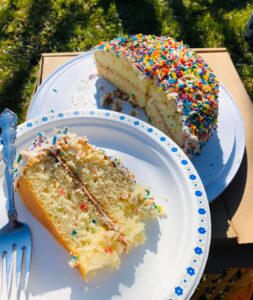 Not bad for a newbie cake-baker, eh? Next time, I'll triple the icing and maybe lose a couple hundred of those sprinkles. Or maybe not. 😀 Enjoy the rest of your weekend, and happy writing! xo