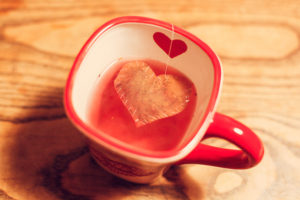 Good morning, all you beautiful people! Happy Sunday! Grab a seat and I'll pour you a hot cup of Steeped in Love!
Continuing from where we left off, still in Addie's POV:
Dating was a horror. She'd tried it all—blind dating, double dating, randomly-meeting-a-guy-at-a-bar dating (those never worked out), and she'd even played the damsel in distress at the hardware store, having heard it was the hotspot for handy homeowners. Handsy was a more appropriate descriptor.
Great-Aunt Edna was a huge believer in love by the leaf. She was a practiced tasseographer who'd met and married her husband all because the tea leaves told her he was the one. Of course, Addie'd found the idea ludicrous at first, but Edna had proven time and again how reliable the leaves were. Eventually, she'd given in and let the old kook teach her how to read her own leaves.
Not that she'd done much with the newfound skill, but it was becoming harder and harder to ignore. In fact, one night, about a week ago, as she was sipping her tea at the kitchen table, she could have sworn she heard the house whispering to her in a voice that sounded suspiciously like Edna's, mocking her pathetic love life. The next morning she vowed to stop enhancing her tea with valerian root, and she also found herself flipping through the singles ads in The Daily Dispatch, and registering for an online dating site. 
Here's the blurb:
Addie Mitchell is a pie-on-the-fly entrepreneur who's finally ready to settle down in the big, empty house her late great-aunt Edna left to her. Frustrated with her lack of success in romance, Addie turns to another gift her great-aunt passed on to her—the art of reading tea leaves—to aid her in her search for the ideal mate. 
Novelist Ethan Holtz is having a hard time sinking his teeth into his next project, but he finds Addie fascinating. Mainly for her ability to make her dates disappear in fifteen minutes or less. He can't help but eavesdrop on her dates in the local coffee shop, his writing haven, and soon finds himself taking pointers on what not to do from her failed suitors.
Though her methods seem nothing short of mad, he falls fast and hard for the pixie-haired pie-pusher. She thinks they're all wrong for each other, but Ethan teams up with the tea leaves to prove they're so right.
Thanks so much for stopping by and be sure to visit the other Weekend Writing Warriors!
The days are getting shorter, the temperatures are dropping, and I can definitely smell winter in the air. But before I welcome Jack Frost, I need to bulk up a bit for the bitterly cold months ahead. Enter: Halloween candy. I plan on buying boatloads of it this week, and you know what? I'm gonna keep it for myself. And I don't think there's anything wrong with that. I'm also going to be attending two exciting events next weekend–A music trivia charity thingamajigger, and a karaoke-themed Halloween extravaganza! Hope you all have a spooktacular week ahead! 🙂