Well, you're in luck! That is, of course, if you live in the Ottawa area. I'm participating in my first author panel! Check this out!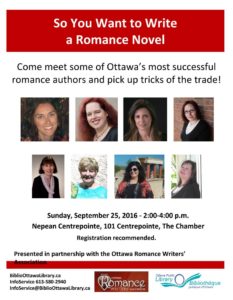 Isn't that the coolest?! And it's posted in the library for all the readers and writers to see! 🙂 I'll be sharing some of the knowledge I've gleaned since becoming an author way back in 2012…a very good year, indeed. My topic for the panel is heroes and heroines, and writing character arcs in general. I plan to share some favourite couples/pairings from well-known authors as examples of how to create characters who stick with you long after you put the book down. I'm using an example from one of my own stories, too: All Action, No Talk. You remember the one? It's a love story between a mime and a clown. Not to brag or anything, but Margaret Ethridge (a.k.a. Maggie Wells), best pal, brilliant author, brainstorming aficionado, and fearer of both mimes and clowns, actually read, edited, and loved my story…so, there's that. She didn't even edit the mime or clown out of the story. Mags also gets credit for helping me to figure out what the heck to say to all the readers and writers and aspiring authors who'll be attending our event this Sunday.
I think the thing that excites me most about my participation in the panel is the microphone. I. Get. A. Microphone. They have no idea what trouble they've gotten themselves into! *maniacal laugh*
For more details on the event, please visit our ORWA website!
Ta-ta for now, my dears! I'll let you know how it goes! 🙂