This past weekend, I participated in my first ever Ottawa Dragon Boat Festival, and it was AMAZING!!!
I've lived in Ottawa since 2013, and every spring/summer I see all the boats on the water and think, "Man, that looks like fun!" Well, this year, I made a point to find out how I could be a part of the festivities. I joined a team organized by the Ottawa Sport & Social Club (OSSC) back in mid-May, and we practiced every Tuesday evening, for six weeks, until race weekend.
See, dragon boats move best when there are 20 paddlers aboard the vessel, but we had a heck of a time filling our boat each week. Paddling a canoe is a leisurely affair. Paddling a dragon boat requires power, endurance, and an extraordinary amount of concentration and determination. In short: it ain't easy. At times, it feels a lot like torture. But when you feel the boat accelerating forward, and when you see all twenty paddles slicing through the water in sync, it's truly a thing of beauty.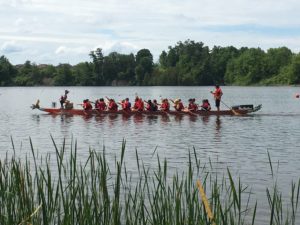 We did our best to recruit new teammates to replace those who had to bow out for various reasons, and those new recruits even recruited participants. I happened to recruit my good friend Josee, who was still recruiting people right up to the eleventh hour. By the time race weekend rolled around, some of us were still scratching our heads as to who recruited whom, and where the heck this new guy came from. 😀
160 teams made their way to Mooney's Bay Park for 500 meter, 100 meter, and 200 meter races. Each team had their own tent where they kept all their stuff and prepped before their races. I was given the task of coming up with a team cheer for our group. When I shared it with my fellow teammates, they loved it! Ken, our awesome OSSC coordinator and official team "Mom," awarded me with a gold wristband for my efforts, designating me as team captain. Wooooot! I'm Julie, and I'll be your dragon boat director.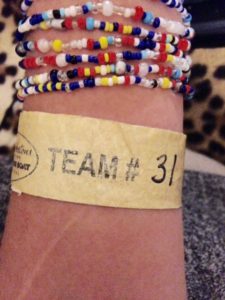 Ken set up our tent, brought snacks and a cooler full of cold drinks, took pics and videos, and carried our valuables whenever we were racing. Right? Totally a mom.

I led our team through a good stretch before we lined up for staging. Then, one by one, they called the teams to their dock for launching.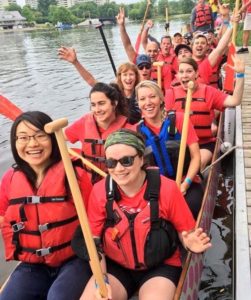 Once we were settled in the boat, the nerves hit. It's one thing to race for fun during practices, but this was the real deal. We paddled our way to the starting blocks and awaited the signal.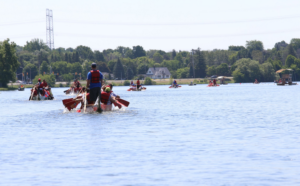 Set. Ready-ready. GO!
Five-hundred meters might not sound like a great distance, but holy moly, let me tell you. The roughly 2.5 minutes it takes to paddle that distance is killer. We were in a pretty quick heat and finished in the middle of the pack with a time of 2:30.23, a personal best for our team! And now we'd officially shaken off the first race nerves.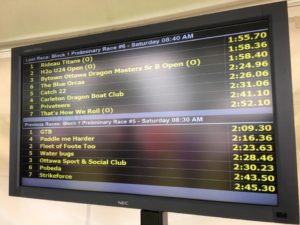 Mooney's Bay Park was the perfect venue for the festival. It was so fun just to tour around and visit all the kiosks, food trucks, kick around in the giant playground, watch other races, meet other teams, and play beach volleyball during our downtime.
Our second 500 meter race took place Saturday afternoon and we crushed our previous record, setting a new PB of 2:25.30! We tied for third place in a race that required a photo finish!
Not only that, our combined times allowed us to do something that's never before been done in OSSC history: We qualified for day two of racing, finishing in the top 60 of 160 teams!!! Not too shabby for a bunch of first-time dragon boaters! We were all ECSTATIC, to put it mildly, knowing we'd be back bright and early the following morning for another full day of paddling.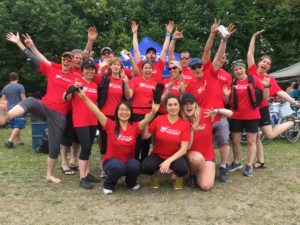 On day two, racers compete in 100, 200, and 500 meter races. We'd never trained for either the 100 or 200, yet we still did surprisingly well given our inexperience. However, the 500 was definitely our specialty. Nick, our fabulous coach, prepped us and pepped us for the race of a lifetime.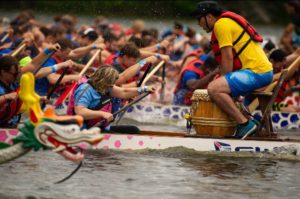 There was a significant headwind that made lining up for the starting blocks quite difficult, but eventually all teams were able to hold their boats long enough for the horn to blast. We flew out of the gates and were right in the middle of the pack early on. But as the race progressed, other teams weren't up to the task of maintaining their stroke rate. That's when we poured it on. We laid it all out on the line. We held nothing back and gave it everything we had. In the final 100 meters of the race, we pushed from third to second and held on till the end to secure our team a silver medal! WE DID IT!!!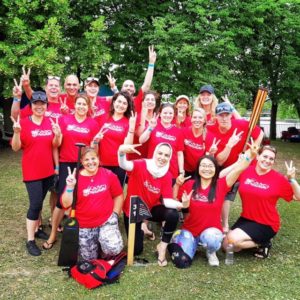 As if winning second place in our division wasn't incredible enough, the awards ceremony ROCKED! The top three teams in each division were called up to the stage to receive their medals while sweet tunes thumped and the crowd cheered. Essentially, the teams had a dance party on stage for two or three minutes to bask in their glory, and our team was certainly no exception! I mean, c'mon, you guys KNOW I owned that stage. 😉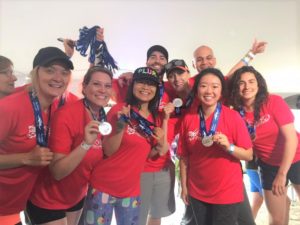 Wow, what a weekend! I'm so unbelievably happy, so proud! And these teammates of mine are not just the best darn dragon boat teammates ever, they're also amazing friends. 🙂