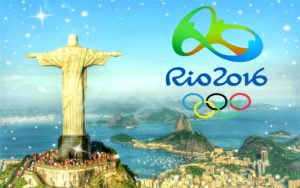 Ahoy-hoy, friends! It's the most wonderful time of the year! Not Christmas, but it might as well be! I am absolutely OBSESSED with the Olympics. Obsessed, I tell you! Are you as nuts about the sportsy-sports as I am? You've been parked in front of your TV set since last Friday, too, right? Okay, good.
Once upon a time, I had visions of being in the Olympics. I planned on making my debut in 2004 in the sport of soccer, my most favourite sport in the whole wide world. But then I thought, hey, if I really want all the glory, or at least half the glory, maybe I should try for beach volleyball instead, my second favourite sport. A very close second, I might add. And so I kept flipping back and forth, eventually concentrating my efforts in soccer.
I played at a very high level. When I turned fifteen, I was recruited to a rep team, which then led to tryouts for a provincial team. After only one tryout, I was added to the team. They called me the animal. I know what you're thinking. This sweet face? Impossible! But it's true, guys. I am fierce on the field. You do not want to come between me and the ball. It won't end well for you.
For two years, I played with an amazingly talented group of girls, travelling all over Ontario and even some parts of the USA for games and tournaments. I turned nineteen in our final season, just finishing high school (we had grade 13, don't judge), and I had some big decisions to make. In the end, I chose to focus on my education, and soccer took a backseat in my life. I don't feel like I missed out, though. I still play soccer to this day. I coach too, one of the most rewarding things I've ever done. I live within walking distance of a beach here in Ottawa, and I've been playing beach volleyball all summer long. It may not be Olympic-level competition, but I'm having the time of my life. 🙂
So here's a question for you: If you were competing in the Olympics, which sport(s) would be your specialty?
Thanks for stopping by! Have a fit and fabulous week! Watching the Olympics totally burns calories–all the cheering and whatnot! Go, Canada! 😀