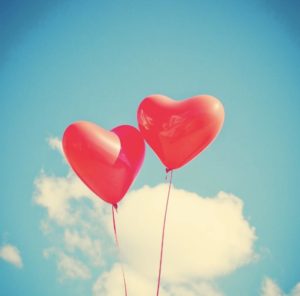 Heyyyy! We're exactly one week away from the big release for Steeped in Love, my first novel! I'm a novelist! Holy crap, this is awesome! 😀
Um, so, my heroine, Addie Mitchell, is an entrepreneur who bakes and sells hand pies, and she transports them on the back of her Pie-Cycle to all the hubs in her town and neighboring ones.
Hand pies, for those unfamiliar, typically come in a half-moon shape and contain either a sweet or savory filling.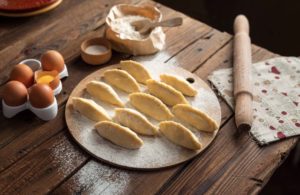 Basically, it's like handheld pie you can eat on the go, anywhere, anytime. In other words, the greatest invention EVER! Stick around, 'cause I'll be sharing a pie-related excerpt from Steeped in Love, as well as Addie's numero uno go-to hand pie filling recipe and the reason she keeps Ethan wrapped around her flour-covered finger. 🙂
Without further ado, here's a sneak peek!
Swapping the book for the container of flour, she placed it on the counter, then washed and dried her hands. She grabbed the bag of pre-made dough from the refrigerator, setting it on the counter as well, and sprinkled the surface with a handful of flour. This was her favorite part of the pie-making process: rolling the dough. It helped a girl get out her frustrations. On this night, she had a good many.
She pulled out the individual mounds of dough, one by one, and began rolling them. Her forearms flexed with every press. Her shoulders burned from the exertion. She'd added a splash of apple cider vinegar to her recipe, ensuring the crust would be extra flaky and tender. Now that she knew two guys had their eyes on her pies, she had to up her game.
While the dough rested, she retrieved the container of blackberry/peach filling from the fridge, then prepared an egg wash.
It was probably wrong to resent Ethan. It wasn't his fault she'd missed out on undoubtedly hot sex. She would admit that, but she wouldn't admit to the tremor that shot through her body when referring to sex and Ethan in the same sentence. Because it wasn't a tremor. It was a chill . . . or something.
She brushed the dough with the egg wash, scooped a generous amount of filling onto each circle, then folded them over. Tomorrow was another day. A fresh start.
She finished brushing the outside of the pies with the egg wash, then cut tiny vents into their tops to allow steam to escape. Lastly, she recited the rhyme her grandmother had taught her during the many hours they'd spent in the kitchen together, baking and laughing. "Rise, rise, my beautiful pies," she whispered, then slid her babies into the oven.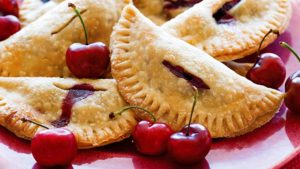 Addie's famous cherry hand pie filling recipe:
INGREDIENTS:
3 cups pitted cherries, roughly chopped (The more cherries, the better. At least according to Ethan)
1/4 cup sugar
1/4 tsp ground cinnamon (Trust me, this makes all the difference!)
3 tbsp freshly squeezed lemon juice + 2 tsp lemon zest
2 tbsp corn starch
2 tsp vanilla extract
Pinch of salt
1 large egg, lightly beaten
Optional: 1/2 cup toasted coconut (Ethan has a sweet tooth that rivals Willy Wonka's)
Your favorite butter pie crust (Sorry, the crust is a trade secret!)
Step 1. In a medium sauce pan combine cherries, sugar, cinnamon, (coconut), lemon zest, and salt. In a small bowl whisk together lemon juice, corn starch, and vanilla. Pour mixture over cherries and stir to incorporate. Heat cherries over medium high heat, stirring frequently until juices come together to form thick sauce. Remove from heat, cover, and refrigerate until cool. I once left a bowl of cherry filling cooling on the counter while I tended to other things, and Mr. Sweet Tooth burned the roof of his mouth trying to sample the goods. Still didn't learn his lesson . . .
Step 2. Divide pie dough into eight equal balls. On a floured surface, roll out the dough balls into 5-inch rounds. Place each round on a piece of parchment paper, stacking them together so they don't stick. Refrigerate pie rounds for at least 30 minutes to allow them to firm up.
Step 3. Line a large baking sheet with parchment paper. Remove the dough from the refrigerator. Place 2 tablespoons cooled cherry filling in the center of each round, then fold in half to enclose and crimp the edges to seal. Brush the outside of the pies with egg and sprinkle with granulated sugar. Make 2 or 3 small cuts on the top of the pies to vent. Refrigerate prepared pies for 30 minutes.
Step 4. Set rack to the middle position and preheat oven to 350°F. Bake pies until golden brown, 25 to 30 minutes. Remove from oven and let cool. Again, easier said than done if you have a Sweet Tooth lurking about. Oh, oops. He just walked into the kitchen. Better go before he asks what I'm doing sharing my best-kept secrets with all of you! 
Enjoy! And join me back here next week to celebrate the release of Steeped! Woohoo! I'll bring pie! 😀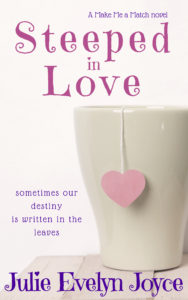 P.S. Steeped in Love is available to pre-order now, my friends! It's on Amazon, Kobo, Barnes & Noble, and iTunes. The print version will be available to order by the end of this week!