Today, my beautiful mommy would have turned 65 years young.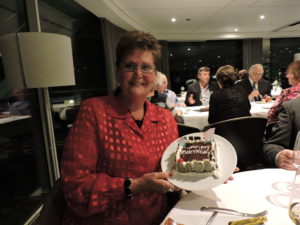 I just did the math, which isn't easy for me, and realized that I've been living in this world for 19 months without her. But that's not really true. Because she's here. Even if I can't always see her, I know she's here.
Sometimes I see her in my dreams.
I remember, not long after she died, I had a dream that she was a spider. Now, I kinda-sorta hate spiders, but Mom taught me not to hate anyone or anything. Even birds. Whenever I'd curse at, or cower in fear of, the vile descendants of velociraptors, she'd look me straight in the eye and sing a song about God and sparrows. So, in the dream, I was about to squish the spider when something in me realized it was Mom. It took a few days, but Dad finally caught her and put her in a glass jar. I fed and watered her and sang her spider songs. I loved her, just as she would have expected me to.
Sometimes, my favourite times, I see her in the sky.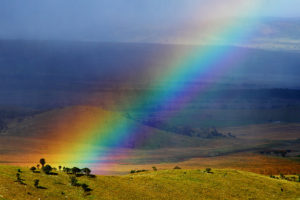 She's my rainbow. The day of Mom's funeral was bitterly cold, but loved ones braved the frigid temperatures so they could be there to celebrate the life of a woman who touched so many people with her kindness and joy. How fitting that her name was Joyce. Several relatives messaged us later to tell us they'd seen a rainbow on their way home.
On the days where I find I'm struggling the most, I'm stressed about something, or I just…miss her so much, I often see a rainbow.
I feel her in my heart.
A dear friend of mine, who lost her father unexpectedly at a young age, gave me the best piece of advice shortly after Mom died: Live your life for your mom, too. It's so easy to stop living when the most important person in your life is no longer in your life, but that's not fair. That would be an insult to my mother who did everything in her power to make my life so very wonderful. Her time on this Earth was cut far too short, and it's my duty to make up for that lost time by enriching my days with exciting experiences, trying new things, taking risks, and living and loving like every day could be my last day.
I think Mom would have FREAKED about me going skydiving, but after it was over, and her baby had landed safely on the ground, she would have thought I was a total badass…and made me swear to never do it again. Truthfully, I did it for both of us. Being way up there, above the clouds, I felt like I could have reached out and touched her.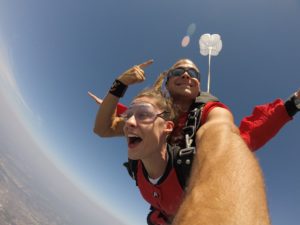 Sometimes I'll go to restaurants and order something I know she'd love, just so I can taste it for both of us. When I see a movie advertised that I'm sure we'd both get a kick out of, I watch it with a big bag of popcorn drenched with extra butter, just the way she liked it. I wear her watches and jewelry. I spritz her perfume for special occasions. Hell, I've even grown to love her purses. This, coming from the girl who carried the same purse for a decade, until it basically disintegrated.
I just want to be close to her, always.
I'm picturing her partying in Heaven right now. Mom's wearing knee-high rainbow toe socks, white shorts (after Labour Day!), and a soccer jersey, going against every bit of fashion sense she ever had…because she wants to be close to me, too.
Happy birthday, my sweet mommy. We're all gonna eat cake for you today. xoxo