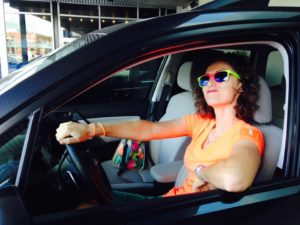 Hey, hey! You, you! Get into myyyy car! 😀
Did you hear that I got a new car? Didja? Have I mentioned it enough yet? Well, my new baby and I have only been together for six days now, but I can't imagine my life without him. Ladies and gents, I introduce you to….
Bubba Gump, my brand-spankin'-new 2016 Subaru Forester!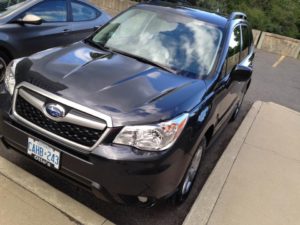 Isn't he beautiful? Isn't he perfect? He's kind of a dark blue/grey colour. It wasn't my first choice, but when I saw the colour on a model in the Subaru showroom, I fell hard. Let me tell you about my past vehicles. They were all vans.  Van-me-downs, if you will. Whenever my parents would upgrade to a new van, I'd buy their old van from them. And you know what? I friggin' love vans. How could you not? They're so spacious! You can put EVERYTHING in them, from bikes to hula hoops to juggling pins (not that I'm speaking from experience). You can pack a crapload of people inside them (I'm pretty much always the designated driver). You're way up high while you're driving, and vans have a surprising amount of horsepower. So…yeah. I'm very pro-van.
When it came time to selecting a new vehicle, I'm not gonna lie. I wanted a van. But then I started really paying attention to other larger vehicles and SUVs on the road and what I liked/didn't like about them. The most important thing to me in a vehicle is the visibility factor. I'm not talking about it being seen from space. I'm talking about windows, people! So many vehicles have blind spots. The more modern vehicles all have these sleek designs and you pretty much lose the back window completely. But not with the Foresters. No sirree. Of all the vehicles we sat in and test-drove, Dad and I agreed that the Forester was the roomiest, most comfortable, and had the best visibility.
And the best part? I've never heard a single bad thing from any other Subaru owner. People RAVE about these vehicles. But the best-best part? When you strut into a dealership with a ginormous cheque to buy a new vehicle, they treat you like a celebrity. Hell, they even gave me a gift basket filled with wine, an adorable tool kit, a CD, two t-shirts, and a pen that apparently writes for seven years.
Now, about that CD…Bubba has a CD player! You guys, I know that might not be a big deal to you, but I HAVEN'T BEEN ABLE TO PLAY CDs IN EITHER OF MY PREVIOUS VANS. It's been all cassette tapes and radio for me, and yes, I still own cassette tapes. Bubbs also has air conditioning! Another luxury for me. AND heated seats! And satellite radio and a back-up camera and he smells SO good and new and yay!
This weekend I'm heading on a road trip to Connecticut for Fiction Fest, so I'll really get a chance to break Bubba in. I can't wait! I've never been so excited to drive before. There are so many other awesome things that will be happening in Connecticut, but I'll have to save that post for next week. Here's a teaser, though: I'M HAVING DINNER WITH KRISTAN HIGGINS ON FRIDAY! She invited me, I swear.
I wish all of you a spectacular weekend ahead! Thanks for stopping in, and if you ever need a ride to…anywhere, don't hesitate to call! 😉