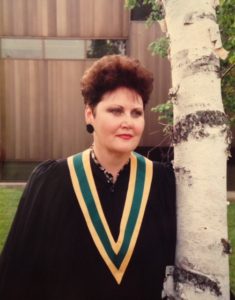 On Monday, February 8th, 2016, I woke up lacking the usual spring in my step. I'd just started a new job teaching Science and Physical Education at Rideau High School, and my classes were extremely challenging. To top it all off, I'd never taught Science before so I'd spent the entire weekend cramming as much information into my head as possible, and fretting, and hoping I wouldn't show any signs of weakness. But teenagers can always smell fear. Somehow, by some miracle, I made it through the day.
I went back to my apartment that night and headed straight for the container of Christmas fudge in the freezer and paired it with a ziplock bag full of cinnamon hearts, planning to eat my troubles away. And then I got the phone call that changed my life.
My mom was gone.
Just like that, an already-bad day turned into the worst day in all my 34 years on this planet. I can't believe it's been 365 days since I lost my dearest friend. I honestly thought I couldn't do it. That I'd never survive without her. There are still days when I wonder how I've made it this far. How I keep putting one foot in front of the other, how I accomplish things. How I keep breathing.
The firsts were the worst–Mother's Day, her birthday, Christmas, my birthday…all those special occasions that weren't quite so special because she wasn't there. But she WAS there. She's here now, her spirit. I believe that with all my heart.
I chose the above picture for so many reasons, the main one being that it's my favourite of her. She looks so peaceful, so determined. Confident. Capable. So full of hope. Ready to take on the world. My mother may not have been a doctor or a paramedic, but she saved people's lives just as surely as hers had been saved. In the late eighties, she was diagnosed with Cushing's disease. She and Dad kept it quiet from us, never once letting us worry, but deep down we realized something wasn't quite right.
Mom suffered from the lingering effects of the disease over the years, but she never once complained. If anything, it made her more intent on living her life to the fullest because she knew all too well how close she'd come to losing the chance.
In the late nineties, after spending more than a decade as a stay-at-home mother, she decided to go back to school and earned a college diploma in Employment Counselling. Mom studied hard, receiving top marks in all of her courses, landing on the Dean's List every semester, and she did all this while still raising her children and caring for her family. She graduated with honours and was instantly offered a job in her desired field with the very college she graduated from.
I was too young to really appreciate how incredible an achievement it was, but as I grew older and began my own pursuits in higher education, I finally understood. There were times during my teenage years that I accompanied her to work. I met some of her colleagues and clients, and it was easy to see how much they admired her and valued her dedication, passion, and commitment. As an employment counsellor, she changed countless people's lives, gave them a second chance to find their purpose in the world, the ability to provide for their own families. She lit the pathway toward prosperity during their darkest hours. She saved them.

I remember all the times I'd be out in public with Mom, and one of her clients would come rushing up to her and hug her and thank her for all that she'd done for them. One of those clients left a special message in the guest book at my mother's funeral and I want to share it with all of you.

For anyone who walked through the doors of Northern Lights in Peterborough, this beautiful smile greeted you. For those of us who were lucky enough to work with her, her impact was significant. She took me on my first trip to Costco, gave me advice both personal and professional at a significant time in my life and many of her wise words still echo through the important decisions I've made and the tough times I've faced in my life. I am in shock that this vibrant, larger than life, kind-hearted, no-nonsense lady was taken from this earth far too soon. My heart breaks for Dennis, Jeff, Julie and her entire family, for if she had such an impact on me in the short time she was part of my life, I can't even imagine the loss you are feeling. I wish I had had the opportunity to tell her…You are all in my thoughts and prayers and Joyce will always hold a very special place in my heart.
I can only hope that as I go on living my life, I will leave such a legacy behind as you, my gorgeous, courageous, giving, and genuinely good mother. Thank you for being my guiding light through the darkness. Thank you for being my friend, my hero, my heart and my soul. I miss you so much, today and every day. With love, always….