Hey, all you fabulous people!
I can't come to the blog right now 'cause I'm Adirondacks-bound! That's right, for three exciting days and two starry nights, I'll be totally off the grid. Soaking in the beautiful scenery, hiking, camping, and bonding with all the outdoor ed. students who are lucky enough to ditch school for the remainder of the week! And, best part of all, I'm actually getting paid to help supervise this group of teens with several other teachers! Saaaweeeet!
Ahh, the Adirondacks in the fall. I took the liberty of Googling images and here's my fave: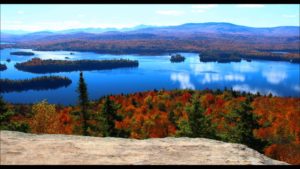 When you think of me this week (as I'm sure you will), imagine me here in this very spot, and try not to miss me too much. Hopefully I won't freeze my buns off.
Take care, brush your hair, and I'll see ya next week!
xoxo