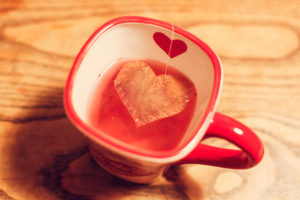 Hey-ohhh! Here we are, back together again for another Sunday of reading, writing, and warrior-ing. But the true warriors among us this week are the ones facing Irma's wrath. I hope these few minutes of escape will bring some comfort to those of you who need it most right now. Here's more from Steeped in Love.
Continuing from where we left off….
"Carry on. So it was a bad date?"
"Seriously, God-awful date, and I've been on plenty of bad dates, but this one was the absolute worst. I thought it would never end."
"Worse than Simple Simon? Worse than Houdini?"
She nodded her head vigorously. "Much worse. This guy was a Jeopardy! hopeful who worded every response in the form of a question or a clue. Apparently he's taken the online test seventeen times—with no success, I might add—but this is his year."
Here's the blurb:
Addie Mitchell is a pie-on-the-fly entrepreneur who's finally ready to settle down in the big, empty house her late great-aunt Edna left to her. Frustrated with her lack of success in romance, Addie turns to another gift her great-aunt passed on to her—the art of reading tea leaves—to aid her in her search for the ideal mate. 
Novelist Ethan Holtz is having a hard time sinking his teeth into his next project, but he finds Addie fascinating. Mainly for her ability to make her dates disappear in fifteen minutes or less. He can't help but eavesdrop on her dates in the local coffee shop, his writing haven, and soon finds himself taking pointers on what not to do from her failed suitors.
Though her methods seem nothing short of mad, he falls fast and hard for the pixie-haired pie-pusher. She thinks they're all wrong for each other, but Ethan teams up with the tea leaves to prove they're so right.
Thanks so much for stopping by and be sure to visit the other Weekend Writing Warriors!
Be safe, my friends. Take care of yourselves, and know that if you or any of your loved ones are in harm's way, you have my prayers. xo