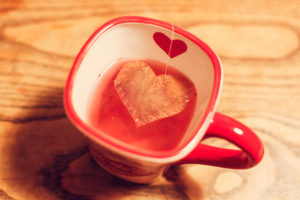 Gooooood morning! I'm freakishly perky considering I'm typing this at 3:14 a.m. More on that shortly. In the meantime, please enjoy another snippet from Steeped in Love!
Continuing from where we left off….
As he crossed the threshold into the Cup-A-Cabana, his gaze immediately landed on Addie. She was behind the counter with Gwen, and the two were doubled over in a fit of laughter. He made for his usual table, set down his bag, and began unpacking all the essentials of writing—even for pretend writers. That's how he felt anymore. Like he was an imposter, carting around his stuff, looking the part, but no more a writer than the dog he didn't own. When he finally sat down, he was startled to find Addie sitting in the seat across from him.
"You're very high-maintenance, Hemingway. It must be hell to travel with you."
"Please, have a seat. Make yourself comfortable."
Here's the blurb:
Addie Mitchell is a pie-on-the-fly entrepreneur who's finally ready to settle down in the big, empty house her late great-aunt Edna left to her. Frustrated with her lack of success in romance, Addie turns to another gift her great-aunt passed on to her—the art of reading tea leaves—to aid her in her search for the ideal mate. 
Novelist Ethan Holtz is having a hard time sinking his teeth into his next project, but he finds Addie fascinating. Mainly for her ability to make her dates disappear in fifteen minutes or less. He can't help but eavesdrop on her dates in the local coffee shop, his writing haven, and soon finds himself taking pointers on what not to do from her failed suitors.
Though her methods seem nothing short of mad, he falls fast and hard for the pixie-haired pie-pusher. She thinks they're all wrong for each other, but Ethan teams up with the tea leaves to prove they're so right.
Thanks so much for stopping by and be sure to visit the other Weekend Writing Warriors!
So, yeah, I'm up kinda late (or way too early, depending on how you look at it). There's a very good reason for that, my friends. I was dancing up a storm at Latin Sparks Festival in Ottawa all. night. long! It was so much fun! Yeah, it might take the next week to recover from staying out till all hours, but hey, it's totes worth it…especially if we consider the cutie on the dance floor who danced with me for half the night and had hips that would have made Shakira proud. Merci pour la danse, François! 😀 Have a beautiful week, everyone! Be kind and love one another.