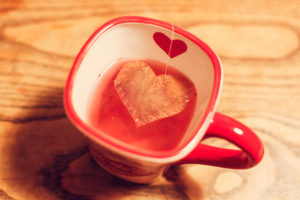 Hellooooooooooo! I'm back from my amazing Orlando adventure and ready to share more snippets from Steeped in Love with all you fine folks! Are YOU ready? Let's do it!
Continuing from where we left off (Addie is still speaking to Gwen)….
"Hey, we still on for yoga next week?" Addie asked as she stood.
"Yep. I'll be there, making like a human pretzel."
"I think I'd enjoy it a lot more if we actually got to eat pretzels. And not do the yoga part."
"I'll bring a bag," Gwen said, inspiring another round of giggles.
**switching to Ethan's POV**
Ethan reached for the door handle and almost collided with hurricane Hannah. She blurted an apology as she raced down the street, promising him a discount on doggie biscuits the next time he visited The Barkery. Perfect. Even better if you could throw in a dog, too.
Here's the blurb:
Addie Mitchell is a pie-on-the-fly entrepreneur who's finally ready to settle down in the big, empty house her late great-aunt Edna left to her. Frustrated with her lack of success in romance, Addie turns to another gift her great-aunt passed on to her—the art of reading tea leaves—to aid her in her search for the ideal mate. 
Novelist Ethan Holtz is having a hard time sinking his teeth into his next project, but he finds Addie fascinating. Mainly for her ability to make her dates disappear in fifteen minutes or less. He can't help but eavesdrop on her dates in the local coffee shop, his writing haven, and soon finds himself taking pointers on what not to do from her failed suitors.
Though her methods seem nothing short of mad, he falls fast and hard for the pixie-haired pie-pusher. She thinks they're all wrong for each other, but Ethan teams up with the tea leaves to prove they're so right.
Thanks so much for stopping by and be sure to visit the other Weekend Writing Warriors!
I won't bother trying to recap my first RWA experience here in a few sentences, mainly because I already wrote a novel-length post about it! Suffice it to say, it was exciting, inspiring, and absolutely unforgettable! If you'd like to read about it in detail, clicky here!
Thanks, as always, for your support, my fellow Warriors! Wishing us all a productive week ahead! 🙂