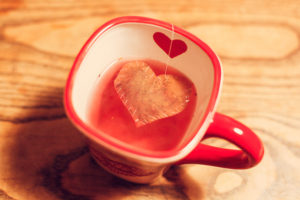 Hey! Hi! Hello! Happy Sunday and Merry January to you! I've got a nice hot cup of Steeped in Love waiting for all you folks dealing with the sub-zero temps out there, and even for those of you who are toasty warm already. I'm sweet that way. 😉
Continuing from where we left off….
Instead of telling her off or defending himself, which she fully expected, Ethan nodded to her abandoned table and asked, "Was that the guy's problem?"
"I'm sorry?"
"The guy you were sitting with. Wasn't he interesting enough for you? Read too many books, maybe?"
She struggled to find the right words. How could she tell him the real reason she ditched her date was because her tea leaves told her to? He'd put her on the next bus to the loony bin. "He was just a, um…ssssselfish. Too into himself."
Here's the blurb:
Addie Mitchell is a pie-on-the-fly entrepreneur who's finally ready to settle down in the big, empty house her late great-aunt Edna left to her. Frustrated with her lack of success in romance, Addie turns to another gift her great-aunt passed on to her—the art of reading tea leaves—to aid her in her search for the ideal mate. 
Novelist Ethan Holtz is having a hard time sinking his teeth into his next project, but he finds Addie fascinating. Mainly for her ability to make her dates disappear in fifteen minutes or less. He can't help but eavesdrop on her dates in the local coffee shop, his writing haven, and soon finds himself taking pointers on what not to do from her failed suitors.
Though her methods seem nothing short of mad, he falls fast and hard for the pixie-haired pie-pusher. She thinks they're all wrong for each other, but Ethan teams up with the tea leaves to prove they're so right.
Thanks so much for stopping by and be sure to visit the other Weekend Writing Warriors! 
Well, I can finally breathe a sigh of relief…at least for a little while. I've been stressing out for weeks and weeks over the Golden Heart, making sure my entry was as polished as it could possibly be. I finally had to let my precious go this past week. Now, we all play the waiting game. No matter what happens, I am so proud of myself for entering and I truly hope and pray Steeped in Love will be a finalist! In the meantime, I've also decided (yet again) to add on to the story and shoot for closer to 60k as my final word count. I think that'll open up a lot more doors for me, so I've been brainstorming with my Crit Partner Extraordinaire. She always manages to help me see the light. Hope the week ahead is full of wonderful things for you, my friends! 🙂