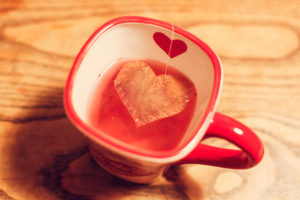 Merry January, my friends! Hope your New Year has started off swimmingly! Who's ready for more from Steeped in Love? Comin' right up!
Continuing from where we left off….
"So you're a writer, I take it?" she asked, dropping her hand to her side. 
"Thrillers."
"I don't have the patience for it. Don't have much time to read, either, but there's hardly anything worth reading anymore. Everyone's an author now that self-publishing is a thing. That Save-Mart cashier over in Smith's Falls who organizes the floats in the Christmas parade every year? She wrote a book. Sexy one, or so she says. It's like everyone thinks they have this big story to share, ya know? I mean, to be perfectly honest, most people just aren't that interesting—" she caught herself mid-tangent, realizing she'd insulted the man at least twice in the span of ten seconds.
Here's the blurb:
Addie Mitchell is a pie-on-the-fly entrepreneur who's finally ready to settle down in the big, empty house her late great-aunt Edna left to her. Frustrated with her lack of success in romance, Addie turns to another gift her great-aunt passed on to her—the art of reading tea leaves—to aid her in her search for the ideal mate. 
Novelist Ethan Holtz is having a hard time sinking his teeth into his next project, but he finds Addie fascinating. Mainly for her ability to make her dates disappear in fifteen minutes or less. He can't help but eavesdrop on her dates in the local coffee shop, his writing haven, and soon finds himself taking pointers on what not to do from her failed suitors.
Though her methods seem nothing short of mad, he falls fast and hard for the pixie-haired pie-pusher. She thinks they're all wrong for each other, but Ethan teams up with the tea leaves to prove they're so right.
Thanks so much for stopping by and be sure to visit the other Weekend Writing Warriors! 
My holidays have come to an end. *sniffle* I must return to work tomorrow, but there's only a few weeks left before the end of the first semester! Yay! That means report card season will soon be upon us. Boo! Starting January 25th, I'll be taking an Additional Qualifications Science course. I'm not too excited about it, but it will surely open up more doors to me in the teaching profession, and so take it, I must. Yoda would be proud. Have a fabulous week, my friends! 🙂