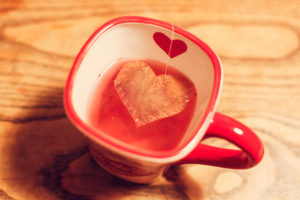 Good morning, my dears! Happy Sunday! Here, have a seat on this comfy couch and I'll pour you a hot cup of Steeped in Love! 🙂
Continuing from where we left off (with some creative punctuation)….
The poor guy had no idea she knew he was a two-timing, double-crossing serpent. Maybe he didn't even know it about himself yet, but she wasn't going to wait around for him to clue in. "I don't think this is gonna work out, but I wish you all the best. Hope you find someone who's right for you. Really appreciate you meeting me. Have a nice life."

Jonathan's jaw hung so low it almost scraped the floor. He probably wasn't on the receiving end of rejection very often. "Uhhh…was it something I said?"
"No, not you, my dead great-aunt won't shut up."
Here's the blurb:
Addie Mitchell is a pie-on-the-fly entrepreneur who's finally ready to settle down in the big, empty house her late great-aunt Edna left to her. Frustrated with her lack of success in romance, Addie turns to another gift her great-aunt passed on to her—the art of reading tea leaves—to aid her in her search for the ideal mate. 
Novelist Ethan Holtz is having a hard time sinking his teeth into his next project, but he finds Addie fascinating. Mainly for her ability to make her dates disappear in fifteen minutes or less. He can't help but eavesdrop on her dates in the local coffee shop, his writing haven, and soon finds himself taking pointers on what not to do from her failed suitors.
Though her methods seem nothing short of mad, he falls fast and hard for the pixie-haired pie-pusher. She thinks they're all wrong for each other, but Ethan teams up with the tea leaves to prove they're so right.
Thanks so much for stopping by and be sure to visit the other Weekend Writing Warriors!
Three weeks! Exactly three weeks till I'm on Christmas break! Not that I'm counting down the days or anything. Nope. Not at all. I officially entered the Golden Heart on December 1st, which means I'll be spending most of this month polishing and re-polishing my entry until it's as perfect as it can be! Wish me luck, my friends! I hope this month is kind to all of you. We'll soon be in a new year, and I can't wait to start fresh and make it the best one yet! Enjoy your week ahead! xo