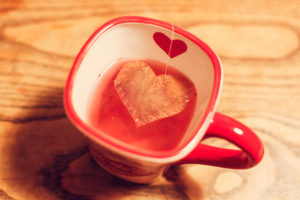 Greetings and salutations! Gonna make this quick because I have company! One of my besties is here for the weekend to help me celebrate the return of Gilmore Girls! So while we binge-watch and binge-eat, here's some Steeped in Love for you! 🙂
Continuing from where we left off….
"You okay? Need more tea?"
Addie met his gaze, sighing mournfully. He was so sexy, so buff. It was a shame she couldn't spend another minute in his company. Edna had warned her against snakes–they were a sign that someone was unworthy of your trust. Just when she'd begun to dream of seeing another snake entirely. Goddamnitalltohell. Best to cut all ties before she got any more carried away.
"I may give up tea altogether after this. It's too depressing."
Here's the blurb:
Addie Mitchell is a pie-on-the-fly entrepreneur who's finally ready to settle down in the big, empty house her late great-aunt Edna left to her. Frustrated with her lack of success in romance, Addie turns to another gift her great-aunt passed on to her—the art of reading tea leaves—to aid her in her search for the ideal mate. 
Novelist Ethan Holtz is having a hard time sinking his teeth into his next project, but he finds Addie fascinating. Mainly for her ability to make her dates disappear in fifteen minutes or less. He can't help but eavesdrop on her dates in the local coffee shop, his writing haven, and soon finds himself taking pointers on what not to do from her failed suitors.
Though her methods seem nothing short of mad, he falls fast and hard for the pixie-haired pie-pusher. She thinks they're all wrong for each other, but Ethan teams up with the tea leaves to prove they're so right.
Thanks so much for stopping by and be sure to visit the other Weekend Writing Warriors!
The Gilmore Girls Revival is upon us! If you don't know what that is, for shame. Also, proceed immediately to Netflix, sit your cute little butt down, and immerse yourself in the magic that is Stars Hollow. You won't regret it. As for me, I must attend to my dear guest. I will not neglect my hostess duties. Time for round three of our Revival viewing! 😀 Have a fantastic week, my friends!