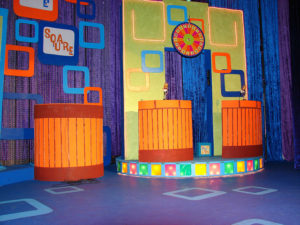 Hellooooo, everybody out there! Today is a very special day! I'm giving you the chance to help me decide between two bachelors. You see, I recently went on a double date. No, not a traditional double date. A two-dates-in-one-day double date. Two guys, one girl (me), approximately eight hours of dating,  No small feat.
I was kind of hoping one of the dates would suck, just to make my life easier. But, no. They were both annoyingly great. And so here's where you all come in. I'm going to tell you about each date/guy, and you choose your fave. I may or may not agree with you. Ready to play The Dating Game? Let's do it!
ETA: Some pictures have since been removed.
Bachelor #1 – Farm Bae – 37, 5'11, cute, athletic build
FB and I met on OKCupid and chatted for a little over a week before we decided to make it official. We were both frustrated with online dating and wished for simpler times, when men and women could meet in the frozen food section at the grocery store. I noticed in FB's profile that he'd mentioned he liked shopping at Farm Boy (my favourite grocery store). The drama teacher in me was instantly inspired. And thus, a plan was hatched….
I should also mention that FB is the proud owner of a VW hippie bus. I'd be lying if I didn't say that was part of his appeal. In fact, my desire to meet him was at least 50% based on the fact that he promised to take me for a spin in 'Hans.' More on that shortly.
I arrived at Farm Boy and briefly scanned the interior for any sign of my date. While I was fondling the apples, I saw him walk in. SO CUTE! We both caught each other's eye and smiled like complete dorks. I turned my attention to the potatoes, and that's when he swooped in from behind. "Hey, lemons are on sale," I heard a voice say. I spun around to find him holding up a bag of lemons and had to bite my tongue to keep from laughing. "Oh…nice," I said. "I'll have to get some of those nice yellow lemons that are on sale."
Round one of flirting = fail. We slowly backed away from each other and met up again in the seafood section. "Looks, um, fresh," I said as I examined the fish. "Do you like salmon?" he asked me. "Love it." He smiled. "I'll have to cook it for you sometime, then…unless you already have someone who cooks for you…" "No! I mean, no, I cook for myself," I said. "Alone. Because I'm single."
We thought for sure that people would have been riveted by our interaction, but it seemed like no one was paying any attention to us. The nerve. Farm Bae reached out and shook my hand and properly introduced himself, then I followed suit. From there, we made our merry little way to the checkout because I had actually added things to my basket along the way. I couldn't resist. Farm Bae told the cashier that we just met in the store for the first time. "Farm Boy is the new singles bar," I said. She smiled and nodded, not believing a word we said.
With my bag of groceries in hand, FB escorted me to his VW bus and introduced me to Hans.
!!!!!!!!! Right? Hans has shag carpet in the back, a hideously fabulous plaid backseat cushion that converts into a bed, and even a built-in cooler to hold my groceries. Farm Bae took me for a ride in his hippie bus, of course. Our first stop: Bridgehead to score some hot beverages. Our next stop: Rockcliffe Park for a prime lookout spot. There's an ideal spot along the winding road where you get a lovely view of the Ottawa River and a little peek at 24 Sussex Drive, Prime Minister Trudeau's home. While I stared longingly at the home that should have been mine, Ben informed me that it was currently being treated for asbestos and the Trudeaus were living at another location. Way to ruin a girl's fantasy.
Once the view lost a large part of its appeal, we drove to a nearby waterfall, and we chatted as we watched the water…well, fall. On our way back to Hans, there was a dude in a pickup truck who had noticed the hippie bus from the road and drove up closer to admire it. He asked FB ALL the questions about Hans. And when their gab fest had finally come to an end, dude asked me, "Do you ever get to drive it?" I said, "Um, we just met today, but I'm 50% dating him for this bus. Maybe if the date goes well he'll let me drive it." Dude laughed and said, "Enjoy the rest of your date!"
By then, we'd both worked up a powerful hunger. Farm Bae and I decided to return to Farm Boy, back to the place where we spontaneously met, for their world-class salad bar.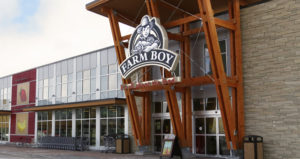 Right after we parked, a couple walked by and saw us getting out of Hans. "Oh, my God," the woman said. "You guys have the best van!" I smiled proudly. "Yep, that's our baby." FB told them that we just met in Farm Boy. They laughed and laughed. Didn't believe us for a second.
We secured our salads, then found a couple stools in the eating area and continued conversing. The conversation never faltered or slowed. It felt so comfortable, like I was talking to someone I'd known far longer than a few hours. When all was said and done, he walked me to my car and said,  "Well, it was nice to meet you…Julie, was it?" His parting words were reminiscent of the ones he texted me before we met: "Just live in the moment, be passionate, spontaneous." And then he kissed me. Twice! And I ran into my car door.
The End?
Bachelor #2 – François (a.k.a. Sparky) – 27 (or is he?), at least 6 feet, great hair, lean build

Sometimes you get lucky and legitimately meet people in the real world, the one with the big yellow ball in the sky. That's what happened a little over a week ago. I went to an event in Ottawa with a couple girlfriends called the Latin Sparks Festival. We were in the mood to dance, and that's exactly what we did…for over four hours.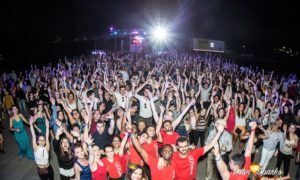 About halfway through the night, my eyes landed on those of a handsome stranger. He swayed my way through the crowd. And let me tell you, the man's hips don't lie. We danced together for the rest of the night. When the clock struck 2:00 AM and the party was over, he walked with me to meet up with my girlfriends again, but not before planting a very juicy kiss on mah mouth. I also slipped him my…digits (dirty birdies).
To be honest, I never really expected to hear from François, but he texted me the next day and said he'd love to see me again ASAP. As it turned out, the only day we could make work was the same day I had a date scheduled with Farm Bae. All these hours, months, years of dating trained me for this moment, my friends! I had approximately 1.5 hours of downtime between dates, just enough to refuel and freshen up.
Sparky suggested we meet at the arboretum and go for an evening stroll among the foliage. It was SO nice, if you ignore the blood-thirsty mosquitoes who feasted on my ankles till they swelled up to twice their normal size.
Aww, a bunny!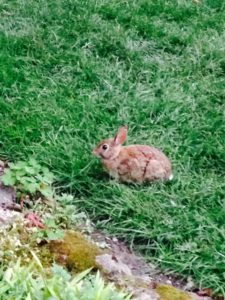 Bunnies make everything better, even the feeling of having your flesh slowly devoured by tiny insects. I came within a foot or two of this cute little cottontail. When he hopped away, François took my hand and made up fake touristy facts about all the different trees and wildlife we saw along the way.
He has fabulous hair. Have I mentioned that yet? Yep, he does. And a great personality, and he's sweet, and the man can dance. He's half Jamaican, half French. Brother got it goin' on.
Mosquitoes, ouchie. Arboretum, pretty.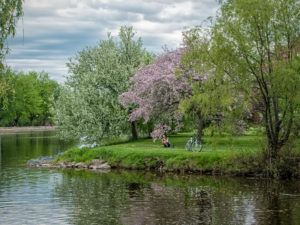 At Latin Sparks, I asked Sparky how old he was and he said he was 27. Okay, a bit on the youngish side, but not a deal-breaker. Except, during our date, he said to me, "Um, I have a confession to make. I'm not actually 27. I'm 26. I just said I was 27 'cause I panicked and it sounded older, and you are, like, way out of my league, so I had to do whatever I could to make it seem like I was even remotely worthy." I said, "Are you sure you're 26? Am I gonna have to ask for some ID?" He laughed and assured me he was telling the truth this time.
The mosquitoes eventually drove us from the pretty forest path. We found a place to sit along Dow's Lake as the moon shone brightly in the sky.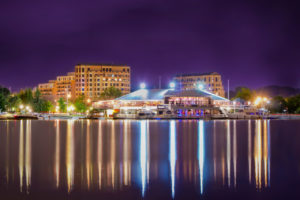 We talked about life, our families, and I opened up about my mom. Is crying on your second date of the day a sign of over-dating? I kind of just broke down, and he put his arm around me and rubbed my shoulder until the last of the tears subsided. He told me that he lost his mom in a car accident when he was only sixteen, so he knew where I was coming from. I never felt weird or awkward about it. It was nice to let some of the emotions out with someone who genuinely understood how I was feeling.
At 11:00 PM, he walked me to my car, and while we were walkin' and talkin', he pulled me in for a smoochy-smooch. I offered to give him a ride home, 'cause Sparky doesn't have a VW hippie bus to cart him around. He graciously accepted my offer and gave me another kiss when we got there as a gesture of his appreciation. I appreciate your appreciation, Sparky.
The End?
So…who's your pick? Bachelor #1, or Bachelor #2? Speak now or forever hold your peace! 😀