Greetings and salutations! Monsieur Murray and I went on date numéro quatre last night. I'll now share the highlights, in pictures! 🙂
Philippe picked me up in Orange Crush and just started driving right away. I had no idea where we were going. Then, he pulled into a parking lot in downtown Ottawa and we walked along a path that led us to this beautiful sight: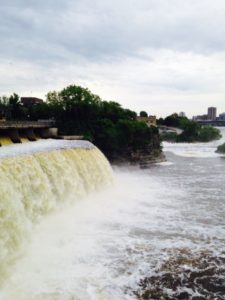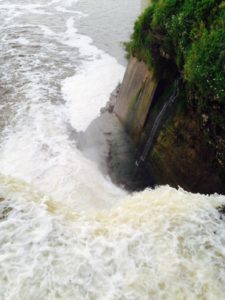 We crossed a bridge over the waterfall, and on the other side there was a nice little secluded spot overlooking the Ottawa River, so we parked our butts down and chatted for a while. And snapped a couple goofy pics.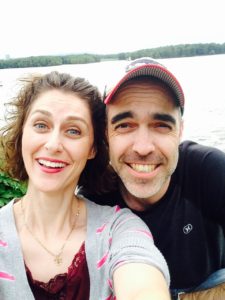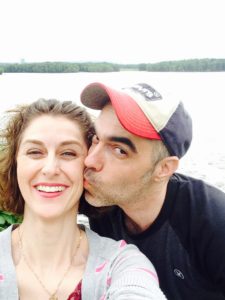 And while we were making spectacles of ourselves, a Capital Cruises boat full of tourists floated past to get a better look at the waterfall. So we put on our own show for them. 😀 I think we might end up on a few camera rolls.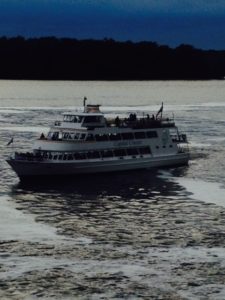 On our way across the bridge again, we came upon this sign. Being the rebels we are, well…we couldn't resist.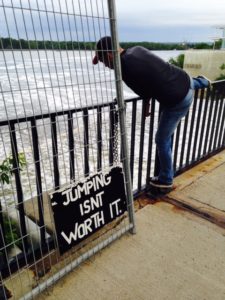 It was totally worth it, just to get this shot. 😉
The next stop on our journey was Mooney's Bay for a stroll along the beach. It started to lightly rain as we got closer to the water, so we sought shelter inside a white vendor tent that had been set up for an event happening this weekend. There were some guys playing volleyball on the beach, and we watched them for a while.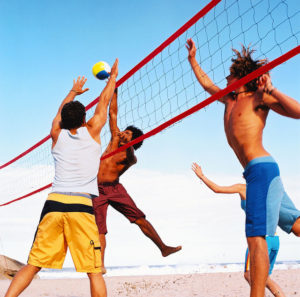 Visual, in case anyone doesn't know what volleyball looks like. I'm not sure we can be friends anymore if you don't. If you're wondering why I didn't join in, it's because I was on a date. Pffffft. Yeah, right! It's because I have shin splints.
When the boys packed up their toys, we made our way back to Orange Crush and listened to the radio and chatted some more. Philly Cheese Steak told me he has two middle names, just like me! Except our parents gave us two middle names before all the celebs started doing it, so we made it cool. We talked about all kinds of things–our jobs, our families, our favourite songs. Talking led to singing, singing led to kissing….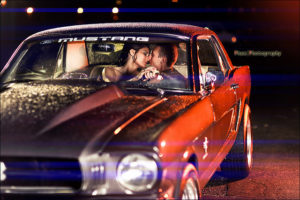 That's not actually us, or OC, but a pretty good representation.
Well, during all this talking and kissing and so forth, we forgot about that silly little radio playing in the background, and by the time we were ready to come up for air, OC's battery said, "Nuh-uh!" So there we were, parked down by the beach in the pitch-black in a car that wouldn't start. No other cars were in sight. It was after eleven so the odds were pretty slim anyone would come to our rescue. Thankfully, my apartment is only a fifteen minute walk from the beach, so the plan was to get my Bubba and bring him to the beach to give Orange Crush a jump. Until….
A car suddenly appeared! AND a truck! They parked side by side a bit behind us. We approached them as friendly-like as we could, 'cause it was dark and we were strangers, and even Canadian strangers look scary in the dark. The dude in the truck quickly agreed to give us a jump. He and Philadelphia talked about cars and car parts while I just smiled and nodded and watched them do their manly thing. In no time at all, OC's engine was purring again. We thanked our knight in shining-Chevy-pickup-truck and sped away, to cap off our date with one last kiss. A brief one this time. While the engine was still running.
And my engine is still running, too. 😀