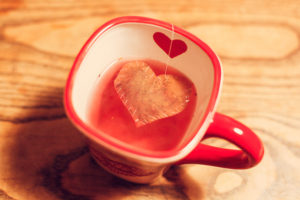 Good morning, my peeps! How's everybody doing? I've spent a lot of time writing this weekend to make up for my inability to speak. #LaryngitisProblems. But the good news is that the sequel to Steeped in Love is well underway. Next week I'll share a bit of it with you! For now, enjoy another snippet from Steeped!
Continuing from where we left off:
Why should he try so hard when she couldn't be bothered to try for him? Jeopardy Joe got a shot, but the only shot Ethan could get came in espresso form. He was stirred from his internal rant by the vision of a woman sitting across from him. Unfortunately, it wasn't the woman who'd just vacated the seat.
Hannah Barker beamed at him, her stark white teeth almost blinding. "You've gotta be Ethan. Quiet, focused guy, sitting at the corner table with a sour look on his face."
"Are you on a scavenger hunt?"
Her smile turned almost predatory. "I'm on the hunt for something."
Ethan waited for her to continue, but she was too busy devouring him with her eyes.
Thanks so much for stopping by and be sure to visit the other Weekend Writing Warriors!
I know, I know. I torture you guys every week by keeping my H/h apart, but I promise you they get their happily ever after. 🙂 I'm in the final stages of editing Steeped in Love and hope to send it out to a pile of publishers later this week. Cross your fingers for me! Happy writing and happy Thanksgiving to my American friends!