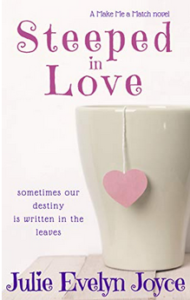 Good morning and happy last week of October! Or, as I like to call it, Halloween week! I don't mean to scare you if you've been enjoying these snippets, but this is the last bit of Steeped in Love I'm sharing for a while, so soak it up and rest assured that if you'd like to read more, you can grab a copy at all the usual online retailers! 🙂
Continuing from where we left off…
"If it's good, it can run right through to the afternoon and turn into lunch, even dinner if you play your cards right. If it's bad, you still have the rest of the day to make up for it. I'm sure it won't be bad, though, because you seem great, and this place is great, and the food is . . . well, great, so we're definitely on the right track."
Her date blinked, clearly trying to catch up to the woman who talked a mile a minute. "We'll see how breakfast goes first, but I make a mean sandwich."
He couldn't see Addie's reaction, but he could somehow sense she was smiling. She fiddled with her hoop earring and he spotted a tiny green leaf inked just behind her lobe. Ahh, so she does have a tatt. He sort of liked that she'd hidden it. She made you work for it.

Here's the blurb:
Addie Mitchell is a pie-on-the-fly entrepreneur who's finally ready to settle down in the big, empty house her late great-aunt Edna left to her. Frustrated with her lack of success in romance, Addie turns to another gift her great-aunt passed on to her—the art of reading tea leaves—to aid her in her search for the ideal mate. 
Novelist Ethan Holtz is having a hard time sinking his teeth into his next project, but he finds Addie fascinating. Mainly for her ability to make her dates disappear in fifteen minutes or less. He can't help but eavesdrop on her dates in the local coffee shop, his writing haven, and soon finds himself taking pointers on what not to do from her failed suitors.
Though her methods seem nothing short of mad, he falls fast and hard for the pixie-haired pie-pusher. She thinks they're all wrong for each other, but Ethan teams up with the tea leaves to prove they're so right.
Thanks so much for stopping by and be sure to visit the other Weekend Writing Warriors!
My best pal and former WWW-er, Maggie Wells, just released the third book in her LOVE GAMES series, Double Play!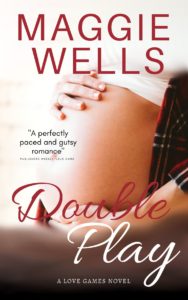 Do you like sex-positive, feminist, contemporary romance with mature main characters? Then start this series now! You won't regret it! 🙂
Have a Spooktacular Halloween!!!