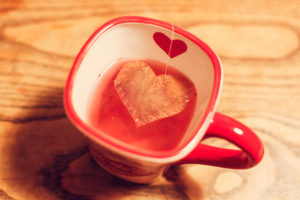 Hiiiiiii! Happy Sunday, my peeps! Hope all's well in your worlds. Let's dive back into Ethan and Addie's world in today's snippet from Steeped in Love! 🙂
Continuing from where we left off…
On her return with the pastry, she topped up his mug. He lifted his head to acknowledge the gesture, but an entirely different woman caught his eye outside the door. She was bent over, locking her bike to a lamppost, unmindful of every man who gawked at her obvious assets on display…including himself. When she righted herself again, recognition dawned.
Adelaide Mitchell, owner and operator of the one and only Pie-Cycle.
He couldn't help but watch as she entered the café, a pixie-haired woman with wide brown eyes, pink lips, and short-shorts that hugged her so tightly he felt envious of spandex.
He rarely got to see Addie up close. Gwen called her that, and the short form suited her. They'd never properly met, but he'd noticed her. Even when she'd whiz by in a blur on her bike, oh, he'd notice her.
Here's the blurb:
Addie Mitchell is a pie-on-the-fly entrepreneur who's finally ready to settle down in the big, empty house her late great-aunt Edna left to her. Frustrated with her lack of success in romance, Addie turns to another gift her great-aunt passed on to her—the art of reading tea leaves—to aid her in her search for the ideal mate. 
Novelist Ethan Holtz is having a hard time sinking his teeth into his next project, but he finds Addie fascinating. Mainly for her ability to make her dates disappear in fifteen minutes or less. He can't help but eavesdrop on her dates in the local coffee shop, his writing haven, and soon finds himself taking pointers on what not to do from her failed suitors.
Though her methods seem nothing short of mad, he falls fast and hard for the pixie-haired pie-pusher. She thinks they're all wrong for each other, but Ethan teams up with the tea leaves to prove they're so right.
Thanks so much for stopping by and be sure to visit the other Weekend Writing Warriors!
I spent most of Saturday competing in my first ever two on two dodgeball tournament, and it was just as crazy as it sounds, but, man, what a great time! My teammate and I had a positive showing and surprised a lot of people with our mad skillz, though you know I'm never quite satisfied unless I'm taking the trophy home with me. 😀 Ah well, there's always the fall tournament. Already have plans to enter that one…
In other news, week one of teaching is in the books! I'm teaching grade 9/10 physical education, grade 11/12 fitness, and grade 9/10 visual arts. The kids are SO lucky I'm not an artist. I think everything looks bee-yu-ti-ful! Have a fabulous week, all!