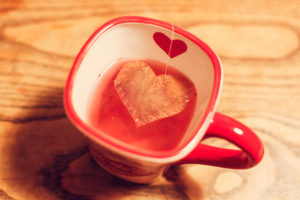 Good morning, my friends! How's every little thing? I'm ready to share another excerpt from Steeped in Love with you today, so here goes!
Continuing from where we left off….
But maybe this wasn't a date.
"I love morning dates," Addie replied.
Okay, scratch that theory.
"If it's good, it can run right through to the afternoon and turn into lunch, maybe even dinner if you play your cards right. If it's bad, you still have the rest of the day to make up for it."
Her date blinked, clearly trying to catch up to the woman who talked a mile a minute. "Well, we'll see how breakfast goes first, but I make a mean sandwich."
He couldn't see Addie's reaction, but he could somehow sense she was smiling. She tucked a tendril of hair behind her ear and he spotted a tiny green leaf inked just behind her lobe. Ethan cocked his head to the side, fascinated that she'd been able to sit still long enough for someone to mark that perfect porcelain skin.
Here's the blurb:
Addie Mitchell is a pie-on-the-fly entrepreneur who's finally ready to settle down in the big, empty house her late great-aunt Edna left to her. Frustrated with her lack of success in romance, Addie turns to another gift her great-aunt passed on to her—the art of reading tea leaves—to aid her in her search for the ideal mate. 
Novelist Ethan Holtz is having a hard time sinking his teeth into his next project, but he finds Addie fascinating. Mainly for her ability to make her dates disappear in fifteen minutes or less. He can't help but eavesdrop on her dates in the local coffee shop, his writing haven, and soon finds himself taking pointers on what not to do from her failed suitors.
Though her methods seem nothing short of mad, he falls fast and hard for the pixie-haired pie-pusher. She thinks they're all wrong for each other, but Ethan teams up with the tea leaves to prove they're so right.
Thanks so much for stopping by and be sure to visit the other Weekend Writing Warriors!
I've had such a fulfilling week. I was able to reconnect with some old teacher friends, I tried something completely different and crazy and it might be the beginning of a new adventure (stay tuned for more on that), and I capped the week off by defending my title as ping-pong champion at a pool party with some more teacher pals! I really and truly am blessed with incredible friends and family, and that includes all of you! Have yourselves a fantastic week! 🙂