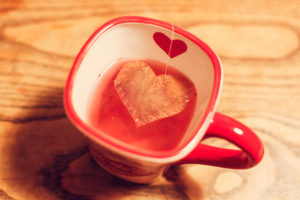 Hello and good morning, my ghouls and goblins! Happy Sunday and happy almost Halloween! Instead of a trick, here's a treat: more from Steeped in Love! 🙂
Continuing from where we left off….
But maybe the problem wasn't what she saw on the surface. It was the fact that she didn't really see him–not the way he wanted her to.
Waking his laptop, he opened a new document, rolled his shoulders, and typed the first line: The Girl Who Couldn't See, Chapter One.
His fingers flew over the keys, and a flurry of words appeared on the screen, only to be deleted thirty seconds later. With a huff of frustration, he closed his laptop. If he thought she wasn't even a little interested, he could let it go. Eventually. He'd get over it and move on, find a new writing spot in another coffee shop in another town. But the other night, during their walk, there was…something. A spark.

Here's the blurb:
Addie Mitchell is a pie-on-the-fly entrepreneur who's finally ready to settle down in the big, empty house her late great-aunt Edna left to her. Frustrated with her lack of success in romance, Addie turns to another gift her great-aunt passed on to her—the art of reading tea leaves—to aid her in her search for the ideal mate. 
Novelist Ethan Holtz is having a hard time sinking his teeth into his next project, but he finds Addie fascinating. Mainly for her ability to make her dates disappear in fifteen minutes or less. He can't help but eavesdrop on her dates in the local coffee shop, his writing haven, and soon finds himself taking pointers on what not to do from her failed suitors.
Though her methods seem nothing short of mad, he falls fast and hard for the pixie-haired pie-pusher. She thinks they're all wrong for each other, but Ethan teams up with the tea leaves to prove they're so right.
Thanks so much for stopping by and be sure to visit the other Weekend Writing Warriors!
I won't be around next weekend, but it's for a very good reason. I'm going on a little girlfriends getaway to NYC with my fabulous pals, Maggie Wells and Kristan Higgins! I've never been before, and I can't imagine any two people I'd rather explore the city with. Shenanigans will undoubtedly ensue. Wishing you all a spooktacular Halloween, and happy writing! 🙂