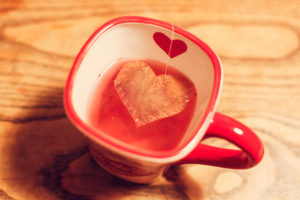 Hey there, fellow warriors and wordsmiths! Happy Sunday! As I type this, I'm busily working away on my novel, Steeped in Love (yes, you can totally type two things at once), with a goal of finishing it by the end of the night. And I WILL finish it! Yes, I will! I will, too! I know you are, but what am I?
Anywho, while I'm arguing with myself, here, have another free sample of Steeped!
Continuing from where we left off….
"Yeah!" she said. "After each show, before the credits roll, Alex could read a list of names…."
"Jeopardy! wannabes who've jeopardized their chances of appearing on Jeopardy!" The sound of her laughter almost soothed his tattered ego. Almost.
"What's with all the weird, bordering on unhinged, guys out there, Hemingway?"
He'd admit to being a bit eccentric, but unhinged? Okay, maybe when she blinked those doe eyes at him, like she was doing right now. He shook his head to clear it. C'mon, Holtz, it's now or never…make your move.
Here's the blurb:
Addie Mitchell is a pie-on-the-fly entrepreneur who's finally ready to settle down in the big, empty house her late great-aunt Edna left to her. Frustrated with her lack of success in romance, Addie turns to another gift her great-aunt passed on to her—the art of reading tea leaves—to aid her in her search for the ideal mate. 
Novelist Ethan Holtz is having a hard time sinking his teeth into his next project, but he finds Addie fascinating. Mainly for her ability to make her dates disappear in fifteen minutes or less. He can't help but eavesdrop on her dates in the local coffee shop, his writing haven, and soon finds himself taking pointers on what not to do from her failed suitors.
Though her methods seem nothing short of mad, he falls fast and hard for the pixie-haired pie-pusher. She thinks they're all wrong for each other, but Ethan teams up with the tea leaves to prove they're so right.
Thanks so much for stopping by and be sure to visit the other Weekend Writing Warriors!
In other exciting news, this past Friday I was offered a long-term position teaching Physical Education for the remainder of the semester at Sir Guy Carleton Secondary School! I've never been there before, so it'll be a new, exciting adventure that begins on Monday! Wish me luck, my friends! Happy writing to all of us! 🙂