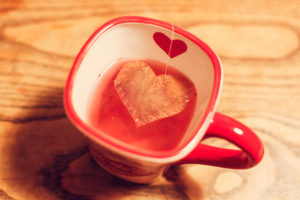 Hiiiiii! How the heck are ya? Here we are, mid-September already. Sheesh! But, hey, at least we're still rocking the warm weather! And here's something else warm…another sip from Steeped in Love!
Continuing from where we left off….
His appetite suddenly gone, Ethan pushed his half-eaten danish aside. Another guy? So biker dude was still in the picture? How many guys would she date before she gave him a chance, or would she ever?
"We met up this morning at a breakfast place in Madoc. When the waitress asked him how he'd like his eggs, he said, and I quote, 'This egg dish is stirred, beaten, and cooked together typically with milk, butter, and variable other ingredients.'"
"What are scrambled eggs?"
She rolled her eyes. "You're not helping."
 "They should have a rule that you can only fail the online test ten times before you're blacklisted, Jeopardy! shamed, publicly humiliated by Mr. Trebek himself."
Here's the blurb:
Addie Mitchell is a pie-on-the-fly entrepreneur who's finally ready to settle down in the big, empty house her late great-aunt Edna left to her. Frustrated with her lack of success in romance, Addie turns to another gift her great-aunt passed on to her—the art of reading tea leaves—to aid her in her search for the ideal mate. 
Novelist Ethan Holtz is having a hard time sinking his teeth into his next project, but he finds Addie fascinating. Mainly for her ability to make her dates disappear in fifteen minutes or less. He can't help but eavesdrop on her dates in the local coffee shop, his writing haven, and soon finds himself taking pointers on what not to do from her failed suitors.
Though her methods seem nothing short of mad, he falls fast and hard for the pixie-haired pie-pusher. She thinks they're all wrong for each other, but Ethan teams up with the tea leaves to prove they're so right.
Thanks so much for stopping by and be sure to visit the other Weekend Writing Warriors!
I've been working hard this weekend to wrap up this story. I hope to type THE END in the coming days! Wish me luck, my friends! Happy writing to you, and I hope the week ahead is filled with wonderful things for all you wonderful people! 🙂