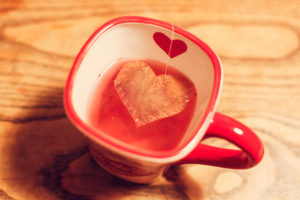 Hi there! Happy long weekend to you! Here in Canada, we call it LaboUr Day weekend, with a U. We're all about the U's here, so here's something for all of YOU–another snippet from Steeped in Love!
Continuing from where we left off….
He fought to contain his elation at the thought of Harley Davidson being kicked to the curb, where he belonged. "It should actually be six-hundred, though."
"I'm sorry?"
"Or even a thousand." When she continued to stare at him in bewilderment, he was kind enough to elaborate. "The point values on the Jeopardy! series changed to two-hundred dollar increments over a decade ago. Asking for a 'five-hundred' is so 2001. You need to up your game."
"Right. Can I continue my story now?"
Here's the blurb:
Addie Mitchell is a pie-on-the-fly entrepreneur who's finally ready to settle down in the big, empty house her late great-aunt Edna left to her. Frustrated with her lack of success in romance, Addie turns to another gift her great-aunt passed on to her—the art of reading tea leaves—to aid her in her search for the ideal mate. 
Novelist Ethan Holtz is having a hard time sinking his teeth into his next project, but he finds Addie fascinating. Mainly for her ability to make her dates disappear in fifteen minutes or less. He can't help but eavesdrop on her dates in the local coffee shop, his writing haven, and soon finds himself taking pointers on what not to do from her failed suitors.
Though her methods seem nothing short of mad, he falls fast and hard for the pixie-haired pie-pusher. She thinks they're all wrong for each other, but Ethan teams up with the tea leaves to prove they're so right.
Thanks so much for stopping by and be sure to visit the other Weekend Writing Warriors!
I need to give props to my pal Andy for pointing out how wrong I've been for so many years by asking for '500, Alex.' My apologies for missing last week's rounds. I forgot I'd be at my dad's place–The Land Without Internet–making posting/commenting impossible. I wish everyone a fun, safe, and relaxing long weekend! Happy writing! 🙂