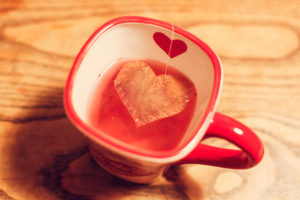 Heyyyyy, you guys! Happy Sunday! Let's start your day off with another snippet from Steeped in Love!
Continuing from where we left off….
She smiled. "I'm in need of a good mocking partner, so I hope you're feeling especially cynical and snarky today."
"I've got the cynical part down, but I may need a danish to help me reach my full snark potential."
Another smile lit her face as she signaled Gwen and ordered a cherry danish for him and a blueberry muffin for herself. Both arrived within moments. "There you go. Chew fast."
He took a big bite and swallowed it down before asking, "So who, or what, are we mocking on this occasion?"
"I'll take 'The worst date I've ever been on' for five-hundred, Alex."
"It's Ethan, but you're getting closer."
Here's the blurb:
Addie Mitchell is a pie-on-the-fly entrepreneur who's finally ready to settle down in the big, empty house her late great-aunt Edna left to her. Frustrated with her lack of success in romance, Addie turns to another gift her great-aunt passed on to her—the art of reading tea leaves—to aid her in her search for the ideal mate. 
Novelist Ethan Holtz is having a hard time sinking his teeth into his next project, but he finds Addie fascinating. Mainly for her ability to make her dates disappear in fifteen minutes or less. He can't help but eavesdrop on her dates in the local coffee shop, his writing haven, and soon finds himself taking pointers on what not to do from her failed suitors.
Though her methods seem nothing short of mad, he falls fast and hard for the pixie-haired pie-pusher. She thinks they're all wrong for each other, but Ethan teams up with the tea leaves to prove they're so right.
Thanks so much for stopping by and be sure to visit the other Weekend Writing Warriors!
My precious summer holidays are quickly coming to an end. I see all the kids and parents doing back-to-school shopping and I break out in hives. I'M NOT READY! I have too much to do still! Dates to go on, books to write. Just give me one more month, please? Please?! *crickets* Okay, fine, then I wish us all a very productive week ahead, particularly those of us (me) who need the extra kick in the butt! 🙂