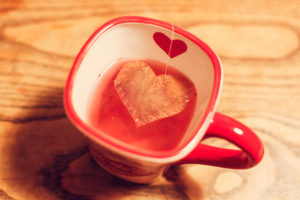 Hi there! Happy day to you! I think it's time to curl up someplace comfy with a spot of tea, and catch up with your pals from Steeped in Love! 🙂
Continuing from where we left off (Gwen is speaking)….
"There are lots of people looking for long-term relationships, Barker, and Ethan could be, too." She spoke the latter part to Addie who was seriously contemplating buying a muzzle for herself. Maybe Hannah could get her a discount.
"You know I enjoy a challenge, Gwen," Hannah said with a gleam in her eyes. "Hate to break up the party, ladies, but I better get to The Barkery. Princess Prancey Paws is coming in to get her nails trimmed and polished and she won't sit still for anyone but Auntie Hannah."
Both Gwen and Addie giggled as Hannah click-clacked her way to the door on her way-too-freaking-high heels. The woman had curves for days and she showcased them in form-fitting clothing that hugged her in all the right places. It made Addie wonder, not for the first time, how Tyler had ever looked past Hannah…but then again, she thought dogs should date.
"It's weird when I'm the normal friend," Addie murmured as the bells signalled Hannah's departure. 
Here's the blurb:
Addie Mitchell is a pie-on-the-fly entrepreneur who's finally ready to settle down in the big, empty house her late great-aunt Edna left to her. Frustrated with her lack of success in romance, Addie turns to another gift her great-aunt passed on to her—the art of reading tea leaves—to aid her in her search for the ideal mate. 
Novelist Ethan Holtz is having a hard time sinking his teeth into his next project, but he finds Addie fascinating. Mainly for her ability to make her dates disappear in fifteen minutes or less. He can't help but eavesdrop on her dates in the local coffee shop, his writing haven, and soon finds himself taking pointers on what not to do from her failed suitors.
Though her methods seem nothing short of mad, he falls fast and hard for the pixie-haired pie-pusher. She thinks they're all wrong for each other, but Ethan teams up with the tea leaves to prove they're so right.
Thanks so much for stopping by and be sure to visit the other Weekend Writing Warriors!
Soooo…here we are, with a little over a week till I head to Orlando for the RWA conference. Am I ready? *snorts* Not so much. However! I am pretty much set for clothes and shoes and accessories, so that's impressive, right? It's nice when you can do most of your shopping in your own closet. Oh, look, a dress I was forced to buy and have never worn! Ooh, that's a pretty skirt that's never seen the light of day. It would look so great with that frilly blouse shoved back behind forty-five different T-shirts. Needless to say, I don't do the fancy-schmancy thing very often, but it'll be fun to play dress-up for a bit. I'll be back in my sporty clothes again before ya know it! 😀 Have an awesome week and I'll see ya next Sunday!