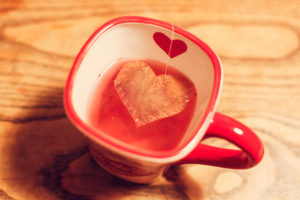 Hiya! How ya doin'? Ready for more reading fun this Sunday funday? Well, why didn't you just say so? Pull up a carpet square and prepare yourselves for another snippet from Steeped in Love!
Continuing from where we left off (Addie shouted 'No!' when Hannah contemplated dating Ethan)….
The emphatic 'no' practically echoed through the interior of the coffee shop. Both women gave her the stare-down. "Um, I mean…I just really don't think he's your type. You know, you're so upbeat and, um, bubbly, and he's very surly. Not really all that friendly, and I don't think he's even looking for anything long-lasting anyway."
Gwen's laser beam stare sharpened, but Hannah perked up in her chair, seemingly pleased by her analysis. "Who is, honey? Well, besides you, which I think is adorable and perfectly right for you. But people like Ethan and me…we're just looking for a good yank on the ol' chain."
Gwen rolled her eyes.

Here's the blurb:
Addie Mitchell is a pie-on-the-fly entrepreneur who's finally ready to settle down in the big, empty house her late great-aunt Edna left to her. Frustrated with her lack of success in romance, Addie turns to another gift her great-aunt passed on to her—the art of reading tea leaves—to aid her in her search for the ideal mate. 
Novelist Ethan Holtz is having a hard time sinking his teeth into his next project, but he finds Addie fascinating. Mainly for her ability to make her dates disappear in fifteen minutes or less. He can't help but eavesdrop on her dates in the local coffee shop, his writing haven, and soon finds himself taking pointers on what not to do from her failed suitors.
Though her methods seem nothing short of mad, he falls fast and hard for the pixie-haired pie-pusher. She thinks they're all wrong for each other, but Ethan teams up with the tea leaves to prove they're so right.
Thanks so much for stopping by and be sure to visit the other Weekend Writing Warriors!
I've been writing up a storm this past week and hope to keep a steady pace going this coming week as well. I have a book to finish, my friends, and the end is in sight! In other news, I'll be teaching summer school for three days this week. Science, of course! I'm gonna try to make the getting-to-know you games and introductions last at least one day. For the remaining two…chemistry, biology, climate change, oh my! I will try not to overREACT. 😉 Have a good one, you guys! See you next week! 🙂