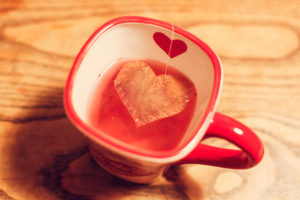 Happy July, my friends! Yesterday was Canada Day in these here parts, so in honoUr (we love our U's) of our 150th birthday, I give you another snippet from Steeped in Love!
Continuing from where we left off…. (Hannah just asked the girls if Ethan is hot)
Addie felt like her cheeks had sucked in every ounce of heat in the room. "He's…well, he's, uh—"
Inadvertently saving her, Gwen said, "You've probably seen him before. He sits in the corner over there." She gestured to his usual table. "Very serious writer-type. I think he's a cutie, plus, he tips well which makes him aces in my books."
Hannah cocked her head inquisitively. "Hey, maybe I should give this Ethan guy a whirl."
"No!" Addie snapped her mouth shut a fraction too late. 
Here's the blurb:
Addie Mitchell is a pie-on-the-fly entrepreneur who's finally ready to settle down in the big, empty house her late great-aunt Edna left to her. Frustrated with her lack of success in romance, Addie turns to another gift her great-aunt passed on to her—the art of reading tea leaves—to aid her in her search for the ideal mate. 
Novelist Ethan Holtz is having a hard time sinking his teeth into his next project, but he finds Addie fascinating. Mainly for her ability to make her dates disappear in fifteen minutes or less. He can't help but eavesdrop on her dates in the local coffee shop, his writing haven, and soon finds himself taking pointers on what not to do from her failed suitors.
Though her methods seem nothing short of mad, he falls fast and hard for the pixie-haired pie-pusher. She thinks they're all wrong for each other, but Ethan teams up with the tea leaves to prove they're so right.
Thanks so much for stopping by and be sure to visit the other Weekend Writing Warriors!
Well, this month is set to be an exciting one for me. In a few weeks I'll be heading to Orlando for my first ever RWA conference! I've got appointments set with two editors and an agent to pitch this story, so keep those fingers crossed for me, guys! In the meantime, I'll be writing and editing my little heart out to get this manuscript as polished as possible. I wish you all a productive month ahead, and I hope the words floweth freely! 🙂