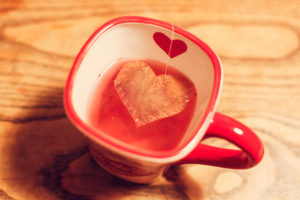 Hey! Hi! Ahoy-hoy! Happy Sunday, my friends, and happy Father's Day to all the wonderful fathers out there! My gift to you–a new snippet from Steeped in Love! 🙂
Continuing from where we left off….
The mention of books brought a certain author to mind. Addie glanced around the interior, but Ethan wasn't camped out in his usual corner. "Hey, have you guys seen Hemingway?"
"Who?" the other women asked in unison.
"Ethan…the writer guy."
Gwen shook her head. "Nope, haven't seen him yet today."
"Is his name seriously Ethan?" Hannah asked. "That's, like, the name reserved for the hottest of hot guys. Please tell me he's hot."
Here's the blurb:
Addie Mitchell is a pie-on-the-fly entrepreneur who's finally ready to settle down in the big, empty house her late great-aunt Edna left to her. Frustrated with her lack of success in romance, Addie turns to another gift her great-aunt passed on to her—the art of reading tea leaves—to aid her in her search for the ideal mate. 
Novelist Ethan Holtz is having a hard time sinking his teeth into his next project, but he finds Addie fascinating. Mainly for her ability to make her dates disappear in fifteen minutes or less. He can't help but eavesdrop on her dates in the local coffee shop, his writing haven, and soon finds himself taking pointers on what not to do from her failed suitors.
Though her methods seem nothing short of mad, he falls fast and hard for the pixie-haired pie-pusher. She thinks they're all wrong for each other, but Ethan teams up with the tea leaves to prove they're so right.
Thanks so much for stopping by and be sure to visit the other Weekend Writing Warriors!
Well, I did it! I jumped out of a plane and lived to tell the tale! It's impossible to describe the feeling of free-falling from 13,000 feet in the air at the speed of 200 km an hour, but let's just say several expletives were used whilst I was experiencing it. Pictures and commentary about the entire jump, from start to finish, can be found by clicking the linky! To sum it up: it was a thrill of a lifetime and something I'm so very glad I tried. I wish you all an exciting week ahead!