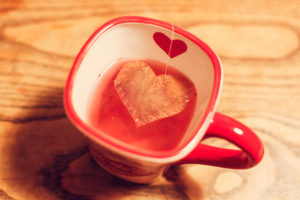 Good morning! Happy Mother's Day to all the mothers, grandmothers, and great-grandmothers out there. As most of you know, I lost my mother in February, 2016. I had a dream about her last night. Sometimes I think she knows when I need her the most. I always feel her spirit, but when I dream about her, it's like she's still here. Today's Steeped in Love snippet is dedicated to her and all of the other beautiful mothers out there, whether on earth or in heaven.
I'm skipping ahead a little bit this week to a scene later in the story. Addie's had a couple dates with a fella who's showing serious potential, and her gal-pal's are probing her for deets. 🙂
"Sooo, how'd it go?!" Hannah asked, her eyes practically bugging out of her head. Her blond curls were so elaborately coiffed, they should have been featured in a hair magazine.
"It was another really great date. We're going out again on Tuesday." Addie laughed as the overenthusiastic pair pulled her behind the counter for some privacy, though Hannah's high-pitched squeals were anything but subtle.
"Oh, this is so fabulous. He's so hot, and so tall. Oh my God, you guys are gonna have completely gorgeous babies!"
Gwen snorted. "It's been two dates, Barker, let's not start naming their children just yet."
Here's the blurb:
Addie Mitchell is a pie-on-the-fly entrepreneur who's finally ready to settle down in the big, empty house her late great-aunt Edna left to her. Frustrated with her lack of success in romance, Addie turns to another gift her great-aunt passed on to her—the art of reading tea leaves—to aid her in her search for the ideal mate. 
Novelist Ethan Holtz is having a hard time sinking his teeth into his next project, but he finds Addie fascinating. Mainly for her ability to make her dates disappear in fifteen minutes or less. He can't help but eavesdrop on her dates in the local coffee shop, his writing haven, and soon finds himself taking pointers on what not to do from her failed suitors.
Though her methods seem nothing short of mad, he falls fast and hard for the pixie-haired pie-pusher. She thinks they're all wrong for each other, but Ethan teams up with the tea leaves to prove they're so right.
Thanks so much for stopping by and be sure to visit the other Weekend Writing Warriors! 
Enjoy your day, all you moms out there! Extra hugs to those of us who have lost ours. And lots of love to everyone who takes the time to visit and comment on my posts. xoxoxo