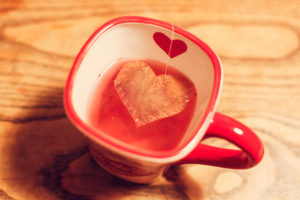 Hey, hi, hello! Hope your May is off to a magnificent start! It's time for another sip-pet (see what I did there?) from Steeped in Love!
Continuing from where we left off….
Addie and Gwen were friends, too. Addie…the woman who'd known him all of three seconds before insulting him six ways from Sunday. The woman he hadn't been able to stop thinking about since she left. She'd already burrowed under his skin too much for him to pretend otherwise, but he couldn't deny his disappointment in discovering her shallowness. There's hardly anything worth reading anymore, she'd callously said. Whether it was an accusation or a challenge, he wasn't sure. Self-publishing made the path to becoming published a bit easier, sure, but writing a book wasn't easy. Anyone who'd ever tried and failed could attest to that.
He'd take it as his civic duty to correct her misconceptions about writing. There were interesting books out there; tons of 'em!
Here's the blurb:
Addie Mitchell is a pie-on-the-fly entrepreneur who's finally ready to settle down in the big, empty house her late great-aunt Edna left to her. Frustrated with her lack of success in romance, Addie turns to another gift her great-aunt passed on to her—the art of reading tea leaves—to aid her in her search for the ideal mate. 
Novelist Ethan Holtz is having a hard time sinking his teeth into his next project, but he finds Addie fascinating. Mainly for her ability to make her dates disappear in fifteen minutes or less. He can't help but eavesdrop on her dates in the local coffee shop, his writing haven, and soon finds himself taking pointers on what not to do from her failed suitors.
Though her methods seem nothing short of mad, he falls fast and hard for the pixie-haired pie-pusher. She thinks they're all wrong for each other, but Ethan teams up with the tea leaves to prove they're so right.
Thanks so much for stopping by and be sure to visit the other Weekend Writing Warriors! 
Just want to take a moment to point your attention to a post from earlier this week. You might remember Maggie Wells (a.k.a. Margaret Ethridge) from her days on the WWW loop. She stopped by my blog this past Wednesday to share her new Play Dates cover, and she has an extra-special giveaway for one lucky commenter! Your odds are pretty spectacular at the moment since only one person has commented! Clicky the linky!
That's all for now, folks! Have a wonderful week! 🙂