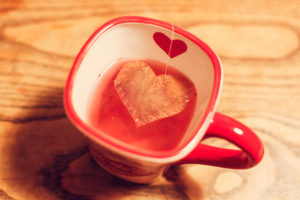 Happy Sunday, my dears! And happy almost-May! It's time for more adventures from Steeped in Love!
Continuing from where we left off….
"Can I top you up?" she asked.
"No, but I'll take another danish, please."
She cocked an eyebrow. "Two danishes before noon? Better watch that waistline."
Her parting wink was enough to disarm him. Gwen was pretty. He'd made that observation the first day he entered the Cup-A-Cabana. And she'd always been easy to talk to, not that they talked all that much, but it was nice. She felt like a friend, maybe the first real friend he'd made in the town.
Here's the blurb:
Addie Mitchell is a pie-on-the-fly entrepreneur who's finally ready to settle down in the big, empty house her late great-aunt Edna left to her. Frustrated with her lack of success in romance, Addie turns to another gift her great-aunt passed on to her—the art of reading tea leaves—to aid her in her search for the ideal mate. 
Novelist Ethan Holtz is having a hard time sinking his teeth into his next project, but he finds Addie fascinating. Mainly for her ability to make her dates disappear in fifteen minutes or less. He can't help but eavesdrop on her dates in the local coffee shop, his writing haven, and soon finds himself taking pointers on what not to do from her failed suitors.
Though her methods seem nothing short of mad, he falls fast and hard for the pixie-haired pie-pusher. She thinks they're all wrong for each other, but Ethan teams up with the tea leaves to prove they're so right.
Thanks so much for stopping by and be sure to visit the other Weekend Writing Warriors! 
So, last night I was able to check off one majorly awesome item on my Bucket List: BUBBLE SOCCER! If you don't know what that is, I urge you to Google it at once, YouTube it, get visuals, get video footage…get totally educated, and then get your cleats on and try it yourself! It was SO much fun! You spend more time flopping all over the field than you do actually making contact with the ball, but it's hilariously awkward. I highly recommend it! Pics and vids are available for your viewing pleasure on Facebook AND Twitter. 😉 Have a fabulous week, my lovelies!