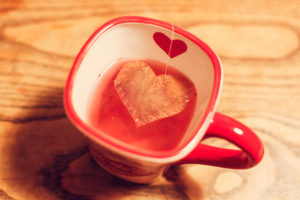 Hiiiiiiiii! Happy Sunday and Hoppy Easter! As I mentioned last week, I'll be sharing some snippets from new scenes I've added to Steeped in Love for the next little while. So, without further ado, let's hop to it!
Continuing from where we left off (and please forgive the creative punctuation)….
He never expected he'd actually enjoy playing the game, though. And he was good. Ethan'd skinned his knees more than once to stop a ball from entering the outfield. Shortstop–sounded more like a punctuation mark than a fielding position. All through high school he played until he learned about the creative writing club. Then, his interest in playing shortstop stopped short. So too did the support from his parents.
Swallowing down the bitterness such memories always produced, he turned to the classifieds section, his gaze settling on the singles ads. 'Just a Tinder fella looking for his Tinderella,' one ad read. "Seriously, dude?" he muttered, "you ganked your own Tinder bio for a newspaper ad?"
Here's the blurb:
Addie Mitchell is a pie-on-the-fly entrepreneur who's finally ready to settle down in the big, empty house her late great-aunt Edna left to her. Frustrated with her lack of success in romance, Addie turns to another gift her great-aunt passed on to her—the art of reading tea leaves—to aid her in her search for the ideal mate. 
Novelist Ethan Holtz is having a hard time sinking his teeth into his next project, but he finds Addie fascinating. Mainly for her ability to make her dates disappear in fifteen minutes or less. He can't help but eavesdrop on her dates in the local coffee shop, his writing haven, and soon finds himself taking pointers on what not to do from her failed suitors.
Though her methods seem nothing short of mad, he falls fast and hard for the pixie-haired pie-pusher. She thinks they're all wrong for each other, but Ethan teams up with the tea leaves to prove they're so right.
Thanks so much for stopping by and be sure to visit the other Weekend Writing Warriors! 
Well, my friends, I finally finished my Additional Qualifications Science course! Booyah! I'm officially a science nerd! I kept my ION the prize, and despite all my sulfuring, I stayed positive and prevailed. Sorry, I only bust out the science puns periodically. 😉 Have a wonderful week, everyone! 🙂